Home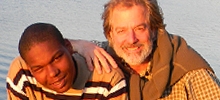 Our Mission
UrbanTrekkers' mission is to be an outdoor, hands-on, up-close learning and mentoring program, where the world is our classroom. We travel to places beyond students' everyday lives, to sites where learning comes alive and students have room to grow. 
What We're Doing...
UrbanTrekkers' expeditions and boat-building adventures are designed to educate and empower youth. Learn more about our current travels and builds and what's to come!
UrbanTrekkers and Urban BoatWorks couldn't operate without our supporters and volunteers. Consider joining us in the boat shop, sponsoring a Trekker, or helping to fulfill our wish list!
Read Our UrbanTREKKERS Blog
Jan 14, 2019
Since I started working here in July, no trip has gone exactly as planned. This year's 12th Grade trip to New York City was no different. Wind, snow, and ice forced us to postpone the trip to the end of November. The seniors made up the entire itinerary for the trip and chose to walk the Brooklyn Bridge from Manhattan to Brooklyn as our premier event of the day. I found a museum in Brooklyn for...