Home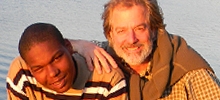 Our Mission
UrbanTrekkers' mission is to be an outdoor, hands-on, up-close learning and mentoring program, where the world is our classroom. We travel to places beyond students' everyday lives, to sites where learning comes alive and students have room to grow. 
What We're Doing...
UrbanTrekkers' expeditions and boat-building adventures are designed to educate and empower youth. Learn more about our current travels and builds and what's to come!
UrbanTrekkers and Urban BoatWorks couldn't operate without our supporters and volunteers. Consider joining us in the boat shop, sponsoring a Trekker, or helping to fulfill our wish list!
Read Our UrbanTREKKERS Blog
Dec 7, 2017
Tell me and I forget.  Teach me and I remember.  Involve me and I learn.  -Benjamin Franklin If you ask, Danny and Alex will readily tell you that they don't like to sit down in class and they don't like worksheets.  In Biology class, they are learning about unifying traits of all living things--from single cell bacteria to a great white shark—which could be viewed as a list, or it could...