Home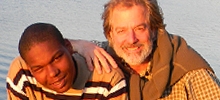 Our Mission
UrbanTrekkers' mission is to be an outdoor, hands-on, up-close learning and mentoring program, where the world is our classroom. We travel to places beyond students' everyday lives, to sites where learning comes alive and students have room to grow. 
What We're Doing...
UrbanTrekkers' expeditions and boat-building adventures are designed to educate and empower youth. Learn more about our current travels and builds and what's to come!
UrbanTrekkers and Urban BoatWorks couldn't operate without our supporters and volunteers. Consider joining us in the boat shop, sponsoring a Trekker, or helping to fulfill our wish list!
Read Our UrbanTREKKERS Blog
May 18, 2021
"There was a child went forth every day, and the first object he look'd upon, that object he became, and that object became part of him for the day or a certain part of the day or for many years…" Walt Whitman – Leaves of Grass I was recently asked to share the UrbanPromise story with a new colleague. As I sat back and began to reflect on my 17 years at UrbanPromise I realized how important it...