Home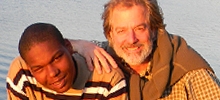 Our Mission
UrbanTrekkers' mission is to be an outdoor, hands-on, up-close learning and mentoring program, where the world is our classroom. We travel to places beyond students' everyday lives, to sites where learning comes alive and students have room to grow. 
What We're Doing...
UrbanTrekkers' expeditions and boat-building adventures are designed to educate and empower youth. Learn more about our current travels and builds and what's to come!
UrbanTrekkers and Urban BoatWorks couldn't operate without our supporters and volunteers. Consider joining us in the boat shop, sponsoring a Trekker, or helping to fulfill our wish list!
Read Our UrbanTREKKERS Blog
Jan 8, 2018
The morning we went to the Holocaust Memorial Museum, two of our students, who also happen to be sisters, were fighting a lot with one another. You know the kind of way siblings fight? It was the kind where they are impatient with one another, and every little thing done or said annoys the other one. Then they realize it annoys the other one, so they dig in to get a greater reaction and laugh...