Home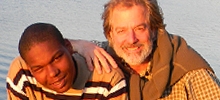 Our Mission
UrbanTrekkers' mission is to be an outdoor, hands-on, up-close learning and mentoring program, where the world is our classroom. We travel to places beyond students' everyday lives, to sites where learning comes alive and students have room to grow. 
What We're Doing...
UrbanTrekkers' expeditions and boat-building adventures are designed to educate and empower youth. Learn more about our current travels and builds and what's to come!
UrbanTrekkers and Urban BoatWorks couldn't operate without our supporters and volunteers. Consider joining us in the boat shop, sponsoring a Trekker, or helping to fulfill our wish list!
Read Our UrbanTREKKERS Blog
Apr 18, 2019
It's a sunny afternoon at Pyne Poynt right here in Camden, NJ. It's low tide so the Stream Stewards walk down the boat launch and make a left onto the dry riverbed. We see a nice flat rock to put our water testing supplies on and get to work. The sky is blue with few clouds and we see geese, ducks, and then a hawk flying by. We remark how the air smells like spring and that we feel energized as...