Home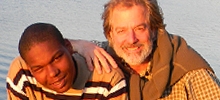 Our Mission
UrbanTrekkers' mission is to be an outdoor, hands-on, up-close learning and mentoring program, where the world is our classroom. We travel to places beyond students' everyday lives, to sites where learning comes alive and students have room to grow. 
What We're Doing...
UrbanTrekkers' expeditions and boat-building adventures are designed to educate and empower youth. Learn more about our current travels and builds and what's to come!
UrbanTrekkers and Urban BoatWorks couldn't operate without our supporters and volunteers. Consider joining us in the boat shop, sponsoring a Trekker, or helping to fulfill our wish list!
Read Our UrbanTREKKERS Blog
Jan 20, 2023
A young but wise philospher once said. "Life is a beach and im just playing in the sand". This statement reminds us to enjoy life, embrace our surroundings, and live in the moment. Now though the author of this quote is Lil Wayne, the words he expressed do not lose their value as that was exactly what was experienced during the 9th Grade Trekker Trip to Assateauge Island.    Beyond NSO( New...