Home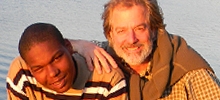 Our Mission
UrbanTrekkers' mission is to be an outdoor, hands-on, up-close learning and mentoring program, where the world is our classroom. We travel to places beyond students' everyday lives, to sites where learning comes alive and students have room to grow. 
What We're Doing...
UrbanTrekkers' expeditions and boat-building adventures are designed to educate and empower youth. Learn more about our current travels and builds and what's to come!
UrbanTrekkers and Urban BoatWorks couldn't operate without our supporters and volunteers. Consider joining us in the boat shop, sponsoring a Trekker, or helping to fulfill our wish list!
Read Our UrbanTREKKERS Blog
May 2, 2022
"What happened here?"    One of our 10th grade students asked me this question as we stood before hulking dark gray stones wet with a rain that had been falling all day. Dubbed the title of Devil's Den during the 1700s, the stones were very large, some as tall as ten or fifteen feet.    I pointed to the stones and the tight gaps between them, "That's where Bob said the soldiers died due to the...