Home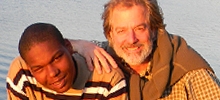 Our Mission
UrbanTrekkers' mission is to be an outdoor, hands-on, up-close learning and mentoring program, where the world is our classroom. We travel to places beyond students' everyday lives, to sites where learning comes alive and students have room to grow. 
What We're Doing...
UrbanTrekkers' expeditions and boat-building adventures are designed to educate and empower youth. Learn more about our current travels and builds and what's to come!
UrbanTrekkers and Urban BoatWorks couldn't operate without our supporters and volunteers. Consider joining us in the boat shop, sponsoring a Trekker, or helping to fulfill our wish list!
Read Our UrbanTREKKERS Blog
Jun 9, 2017
"I don't want to do this anymore!" Yelled Danieliz as we stopped paddling. I had thought we were closing in on the take-out for our three day canoe journey, but it turned out I had misidentified the building we had been aiming for along the coast of the Lower Saranac Lake. Danieliz was tired. As was I. We'd been paddling about four hours that day- but that's not to mention all that had taken...