Home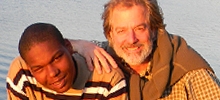 Our Mission
UrbanTrekkers' mission is to be an outdoor, hands-on, up-close learning and mentoring program, where the world is our classroom. We travel to places beyond students' everyday lives, to sites where learning comes alive and students have room to grow. 
What We're Doing...
UrbanTrekkers' expeditions and boat-building adventures are designed to educate and empower youth. Learn more about our current travels and builds and what's to come!
UrbanTrekkers and Urban BoatWorks couldn't operate without our supporters and volunteers. Consider joining us in the boat shop, sponsoring a Trekker, or helping to fulfill our wish list!
Read Our UrbanTREKKERS Blog
Sep 25, 2018
How can I instill awe and love of the outdoors in others? This question has stuck with me since I was a kid growing up in a variety of environments: the desert in Phoenix, Arizona, the rolling hills and woodlands of San Antonio, Texas, and the Northeastern forest of Baltimore, Maryland. I grew up spending much of my time outdoors, and developed an appreciation for my surroundings early on. I...