Home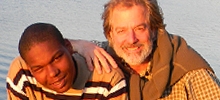 Our Mission
UrbanTrekkers' mission is to be an outdoor, hands-on, up-close learning and mentoring program, where the world is our classroom. We travel to places beyond students' everyday lives, to sites where learning comes alive and students have room to grow. 
What We're Doing...
UrbanTrekkers' expeditions and boat-building adventures are designed to educate and empower youth. Learn more about our current travels and builds and what's to come!
UrbanTrekkers and Urban BoatWorks couldn't operate without our supporters and volunteers. Consider joining us in the boat shop, sponsoring a Trekker, or helping to fulfill our wish list!
Read Our UrbanTREKKERS Blog
Sep 18, 2018
One of the first students that I met when I started with UrbanTrekkers was a rising senior named Johnani. The second I met him I could tell that he was a fireball of energy. Every day Johnani  was off work, he was at UrbanPromise. Usually with someone from the Trekkers office. No matter the task, no matter what was going on, he was always there to lend a helping hand. He is a jokester too, even...