Home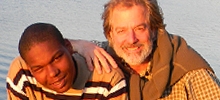 Our Mission
UrbanTrekkers' mission is to be an outdoor, hands-on, up-close learning and mentoring program, where the world is our classroom. We travel to places beyond students' everyday lives, to sites where learning comes alive and students have room to grow. 
What We're Doing...
UrbanTrekkers' expeditions and boat-building adventures are designed to educate and empower youth. Learn more about our current travels and builds and what's to come!
UrbanTrekkers and Urban BoatWorks couldn't operate without our supporters and volunteers. Consider joining us in the boat shop, sponsoring a Trekker, or helping to fulfill our wish list!
Read Our UrbanTREKKERS Blog
Jan 6, 2017
You could see it on his face- the truest expression of joy and wonder. We were visiting the Apple Pie fire tower to look out over the Pinelands of southeast Jersey, and Alejandro's face just lit up as he climbed higher and higher up the tower. Well, climbed doesn't really describe it justly- it was more of a bounding up the metal staircase. As we reached the top, we could see for miles in either...