Home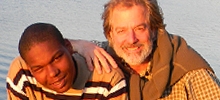 Our Mission
UrbanTrekkers' mission is to be an outdoor, hands-on, up-close learning and mentoring program, where the world is our classroom. We travel to places beyond students' everyday lives, to sites where learning comes alive and students have room to grow. 
What We're Doing...
UrbanTrekkers' expeditions and boat-building adventures are designed to educate and empower youth. Learn more about our current travels and builds and what's to come!
UrbanTrekkers and Urban BoatWorks couldn't operate without our supporters and volunteers. Consider joining us in the boat shop, sponsoring a Trekker, or helping to fulfill our wish list!
Read Our UrbanTREKKERS Blog
Nov 28, 2016
Each week, the UrbanPromise Academy Stream Stewards Team makes a trip down to the banks of the Cooper River to collect water samples. The team is trained to test the water for things like dissolved oxygen, nitrates, and temperature to monitor long-term trends and assess river health.  This year, the team has welcomed three new freshmen students who have brought a whole new level of excitement to...