Home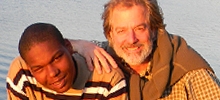 Our Mission
UrbanTrekkers' mission is to be an outdoor, hands-on, up-close learning and mentoring program, where the world is our classroom. We travel to places beyond students' everyday lives, to sites where learning comes alive and students have room to grow. 
What We're Doing...
UrbanTrekkers' expeditions and boat-building adventures are designed to educate and empower youth. Learn more about our current travels and builds and what's to come!
UrbanTrekkers and Urban BoatWorks couldn't operate without our supporters and volunteers. Consider joining us in the boat shop, sponsoring a Trekker, or helping to fulfill our wish list!
Read Our UrbanTREKKERS Blog
Oct 5, 2016
As we packed up our tents on our last day at Assateague Island, the wind was whipping from the offshore tropical storm, blowing sand in every direction, and students were getting their gear together to head home. I asked Lemmy to run and grab some things from the van, and he quickly returned. This was Lemmy's first Trekkers trip, and I had found him to be extremely helpful all week long. Whether...