Home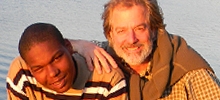 Our Mission
UrbanTrekkers' mission is to be an outdoor, hands-on, up-close learning and mentoring program, where the world is our classroom. We travel to places beyond students' everyday lives, to sites where learning comes alive and students have room to grow. 
What We're Doing...
UrbanTrekkers' expeditions and boat-building adventures are designed to educate and empower youth. Learn more about our current travels and builds and what's to come!
UrbanTrekkers and Urban BoatWorks couldn't operate without our supporters and volunteers. Consider joining us in the boat shop, sponsoring a Trekker, or helping to fulfill our wish list!
Read Our UrbanTREKKERS Blog
Dec 10, 2018
Camden, New Jersey and Camden, Maine are two very different places in the world. One, very diverse, largely populated, and overlooked by even the people that live in it. The other not so diverse, a small town, and appreciated by mostly everyone in it. The one thing they do have in common: teenagers trying to better their community one relationship at a time. How do they do it? Trekkers play a big...