Our Blog
The Civil War History Tour 2022
"What happened here?" 
One of our 10th grade students asked me this question as we stood before hulking dark gray stones wet with a rain that had been falling all day. Dubbed the title of Devil's Den during the 1700s, the stones were very large, some as tall as ten or fifteen feet. 
I pointed to the stones and the tight gaps between them, "That's where Bob said the soldiers died due to the sound echoing off the stones. Soldiers hid in between the stones to hide from shots from that hill." I pointed to the nearby hill named Little Round Top. "But when they were hiding in the rocks, the sound from the cannons and gunfire would bounce off the stones and it killed them with the concussion of the sound. Just the sound!" The student looked up at the stones, eyes growing wide and then walked away. The history of Gettysburg finally settling in. 
The Civil War History Tour's entire purpose is to give students the fuller, realer, and more present picture of the history they learn in the classroom. For our tenth grade, that learning distance was short indeed. Just the three days before we had left on our trip, students learned of the John Brown rebellion in Harpers Ferry, West Virginia and the beginning of what would eventually escalate into the Civil War. 
The town of Harpers Ferry of 2022, as it turned out, is part small waterfront town and part national historical park. Curio shops and pubs met old brick foundations of what once stood in the 19th century. The sights of the town were met with the beauty of the two rivers of the Potomac and the Shenandoah River joining to form the frothing and surging borders of West Virginia, Virginia, and Maryland. One of our students insisted on borrowing the camera to take photos of everything in every nook and cranny of the town. Later inspection of the camera roll showed such bizarre photos as pictures of lines of pots and pans to pictures of wine-scented soap from a gift shop. As strange as it may seem, the honest curiosity and desire to capture the moments experienced on this trip was encouraging. Perhaps, when seeing those photos of maps and gun exhibits, they would not only remember the times with their peers and UrbanTrekkers staff, but perhaps they would remember the events of that era. Of a man named John Brown fighting for his life in a small town with a few close friends, trying to make a difference in a world that wasn't fully ready for him yet. Just maybe those students would remember that, even if they can't see it, the actions they take will be remembered for the impressions and impact that they had. Just maybe they would remember how hard people can fight for what they believe.
The sun cast an array of deep oranges and warm maroons over dunes and small glistening waves of a quiet South Carolina beach. It contrasted with the bright light of a growing campfire at my feet. Of the two it was hard to tell which made my heart feel warmer. As my boss Jim Cummings would put it: "It was good for the soul."
There is something to be said for the soul. We as a society tend to feed our mind and delicately  consider the health of the body. But few people tend to the soul with as much dedication and care. Our students need to be given this time and care as well. So we endeavor to give these soul filling moments. 
It was around the campfire on this beach that we had this conversation. I wanted to know how they felt about these experiences and what can keep people from experiencing them. One student raised their hand and said, "I like coming to these trips because it feels like the one place I can be myself. At home, I have to take care of my siblings and make food and do chores, but here…I can just be myself." Another student chimed in, "It's the people that keep me coming back. Getting to know and spend time with you guys makes me want to go on these trips." 
The time with our students and seeing them grow on our trips and in our journeys across state lines and habitats is a powerful thing. Earlier that same day, I had shared with our students my joy of holding reptiles and amphibians. I carefully told each to try to take one step outside their comfort zone and if they could take even more. Many were daunted by this task, the scaly skin and unblinking eyes of a snake are not exactly comforting or cuddly by traditional standards. In fact, most had sworn they would never touch either when leaving for the trip. So it was with great delight that I saw all of them hold a snake and many even touched a young alligator. 
It is in small moments of growth that we can see the larger changes that are happening in our children. The same changes that will help them overcome their fear of applying for a job or speaking up for what they believe. Or perhaps, on a smaller but just as important level, doing something that is "good for the soul" like breathing in the slightly salted air of a beach breeze.
Winter Outdoor Leadership Training (The Student's Perspective)
Just before the UrbanPromise Academy's Family Week break, we had enjoyed a long weekend trip to Camp Jumonville in western Pennsylvania with five students on our Winter Outdoor Leadership Training. The goal of this trip this year is to mentally prepare students for the big steps ahead of them for the rest of the year. For some of these students, that next big step is college, for others it is their first year as an upper class student. While we usually use these blog posts as a space to talk about our thoughts on the trip.We thought it would be really special to quote our students' thoughts directly with some of the pictures that we all took of the trip. So the rest of this post will be drawn directly from the journals that they had written in and shared with us on the trip.
Journal Question: Have you ever been on a multi-day trip to the wilderness before?
"No I have not."
"No."
"Yes."
"Yes, I have been on a multi-day trip."
"No I have never been on a multi-[day] trip."
Journal Question: What are your current thoughts on being in a forest? (as of the first day of the trip)
"It's something new"
"Peace, happy thoughts, making new relationships"
"It's alright"
Journal Question: Reflect on this moment. What are some thoughts you have, feelings you feel, things you see?
-I think this trip …has energy and knows they will have fun. I want more people like this to be in more trips, meaning energy…and just being themselves. I want this…because I love trips like these. Hope there are more people like these …"
"Day one, kind [of] scared. Don't know who roommates are so ya!"
"During this time I'm looking at beautiful hills on the mountain tops, the big cross and snow. There is also beautiful weather."
"Noises around, birds, winter, cars. I think about how I feel."
Journal Question: What are your current thoughts on being in a forest? (as of the last day of the trip)
"It's amazing seeing nature. Powerful moments."
"It's alright."
Peace and enjoying nature
The forest was so nice
What were some highlights from this trip?
"The waterfall we saw during our last hike."
"Day 3 was my favorite day!"
Good food, good games, and all amazing times
I really have fun, and I really enjoy the trip, I like the hiking to the cross. 
Any other thoughts on the trip?
I am proud of myself. I did the hike and rock climbing. 
I'm happy we are going home but I wish we could have stayed.
To go on an UrbanTrekkers trip usually implies going camping, hiking, paddling, or some other form of outdoor enjoyment. You might imagine yourself on a beach, a mountainside, or even down a rushing river. However some of our treks leave you in an entirely different scene: a crowded city made of marbles, pillars, towering monuments. It was amongst these landmarks that we trekked with our 11th grade class on our Washington DC trip this year.
It is easy to feel dwarfed by size and grandeur in Washington DC. One of the very first monuments that we walked past was the Washington Monument, a 555-foot-tall obelisk-like structure. This monument's construction spanned almost 40 years of American history in its construction alone. 
It was 26 years after the spire was built that another location that our students visited was beginning its own construction. It was built across the large rectangular Reflecting Pool  from the Washington Monument and was dedicated to Abraham Lincoln. The Lincoln Memorial gives the aura of an ancient temple with a height of 99 feet supported by giant pillars of marble. Inside the tall roof of the building there sits white marble Abraham Lincoln. If this stone statue were ever to move, it would stand 28 feet tall at full height, but for now it sits looking out over the reflecting pool and to the east. In its many years of sitting, the stone-faced Lincoln would have seen a crowd of people gather just in front of his doorstep. It might have sat in silent questioning as it saw a solitary figure climb the steps and turn to face the thousands and speak about a dream he had for the American people and its unity. This was August 28, 1963 and that man was Martin Luther King Jr. 
Our students stood upon that very spot where Martin Luther King stood as he made that speech, seeing the vast expanse of the city that he must have seen 58 years ago. The spot is marked by a simple engraving in the stone, an easily missed text for such a significant moment of American history.  The text simply says:
I Have A Dream
Martin Luther King Jr.
The March on Washington
For Jobs and Freedom
August 28,1963
King is an icon to many people in the United States and this is no more true than in Camden County, NJ. Many of the students see his face on street art, picture frames, statues, and elsewhere. It was in Camden that Martin Luther King Jr. lived during his early years (1949-1951) whilst in seminary. It was in Camden County that he had his first sit-in in 1951. Some who live in Camden today might wonder what differences there were between Camden of King and Camden today.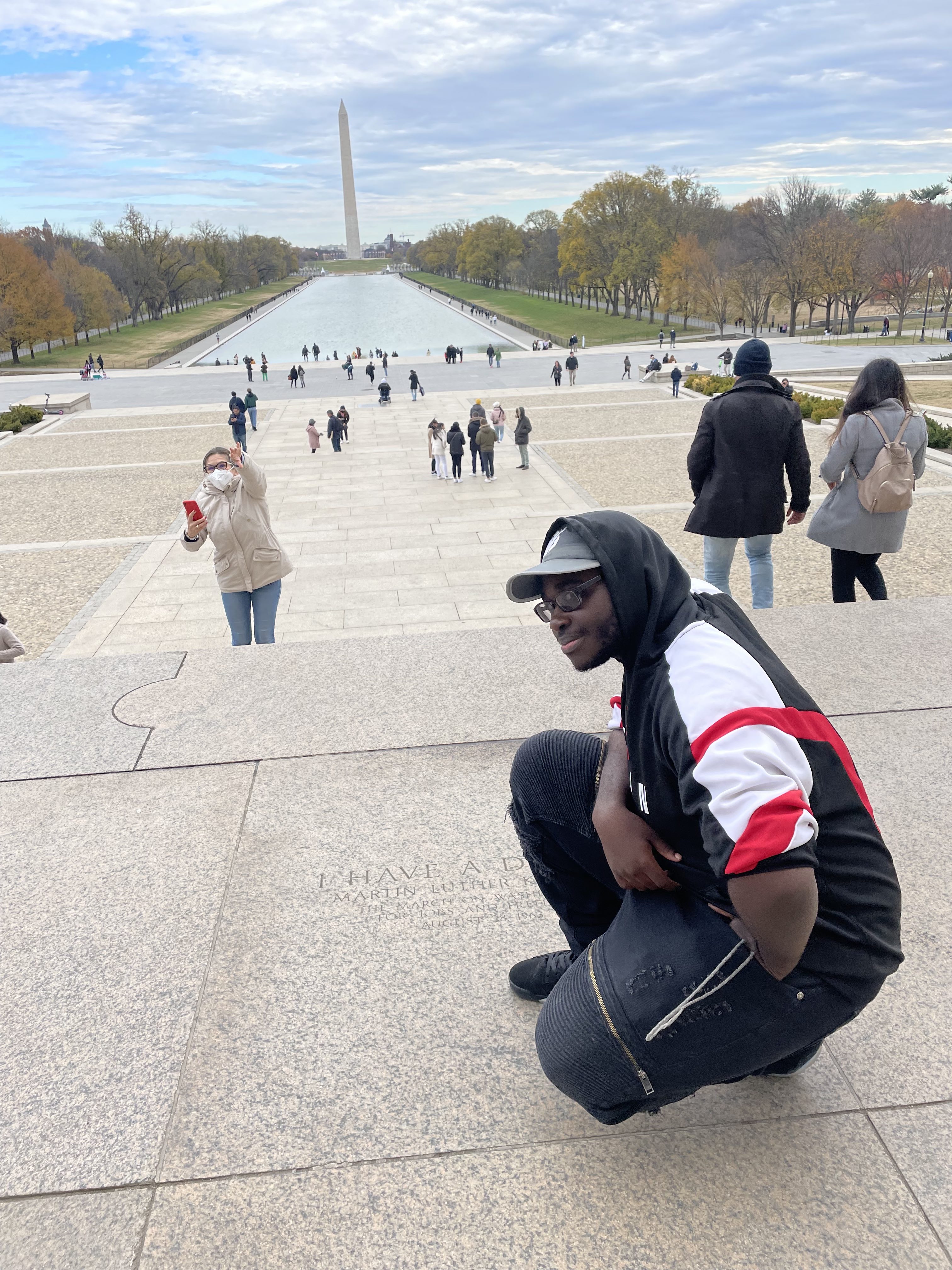 One student stopped and knelt down on the spot Dr. King stood, where he shared the words "I Have A Dream". My student looked up and said, "Dr. King's hopes are still a dream, the work is not finished." So as we look to the end of this year and the start of a new one, let us carry the words of this student: "The work is not finished."
"When I first came on this trip, I didn't think I would like it. But now that I'm here, I'm glad I came." I heard this profound sentence from a student while we were standing looking out across the dunes of Assateague Island. This response was not an unusual summation for the trip and the kids that went on it. Many of the students, 9th graders from UrbanPromise Academy, had never been camping before. Most hadn't been this far from home and none had been to Assateague Island before. 
Assateague Island, one of a long string of barrier islands that stretches from Maine all the way down to Texas, is a unique place. Found on the Delmarva Peninsula, the island is under the protection of three separate parks and reserves, each managed by a separate organisation. This protects many forms of wildlife that rely on its forests, beaches, and marshes for their resources. These habitats are widely different and require special methods to survive in each. A crab from the beach would have a hard time surviving in the tree and bush covered depths of the maritime forest.
Some of the students sympathized with this difference in adaptation as they woke to the feeling of sand beneath their tents and wind-blown dunes. It's a daunting task to set up a tent when you've had the comfort of a bed and house. There are poles, stakes, bags (which usually end up blowing away if you aren't paying attention), and your own two hands to make sense of it all. As any Trekker knows, the outside can be full of surprises. On our trip some horses ate a staff's granola bar. We also had an extremely windy day, which while great for flying kites and enjoying the breeze, did have us double-check our tent's stakes a few times. Life in the outdoors is not an easily predictable process.
But perhaps that is exactly what students are adapted to. Many students live in environments where their life is a changing thing, lifestyles that can turn on a dime or be turned into something entirely different. In all of this, UrbanTrekkers has strived to show that even in the hard moments and after a long day, you can still sit around a campfire at the end, sharing stories, insights, and some well-roasted marshmallows.
Pages