Our Blog
Camden Teens Rediscover the Cooper River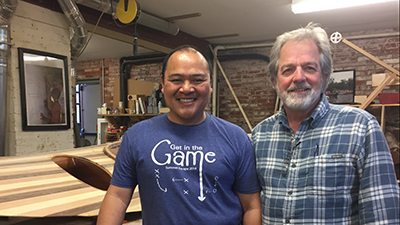 Congratulations and WELCOME to Tom Calisterio our new Program Director at Urban BoatWorks.  Although, it seems a bit odd to welcome Tom who has been with us since day one.  Tommy was one of the founding volunteers from the summer of 2009 who helped us begin the program that brought 5 young men and 5 not so young men together to build three wooden skiffs, Promise, Grace and Faith in a broken, run-down basement of an old church in the Waterfront South neighborhood of Camden.
Today Tommy leads a program that serves over 120 young people and 15 volunteers building character and life skills through the craft of wooden boatbuilding. The run-down, old church building is now the home of the Camden Shipyard & Maritime Museum and the boat shop for Urban BoatWorks.  It is more than a joy to now have Tom "on board" as our Program Director.  When we reflect on the names of the first three boats that were built, Promise, Grace  & Faith they are all virtues I associate with our new Director.  Welcome Tom!
Stream Stewards Present at the Watershed Congress
Earlier this month, Urban Promise's Stream Stewards Team presented their water research at the 2017 Watershed Congress along the Schuylkill River at Montgomery County Community College.  Stream Stewards members, Yasiria and Destiny created a poster presentation with their compiled water data from three sites along the Cooper River in Camden. They spoke to participants about their findings and environmental issues concerning urban waterways including air pollution, stormwater runoff, and non-point source pollution.  
 Through opportunities like this our students aren't just digging deeper into what they've learned, but they are also developing important life skills like positive communication and gaining confidence while speaking.
 Big thanks to the Delware RiverKeeper's Network for putting on a great event. We can't wait till next year's Watershed Congress!         
"The best experience of my life!" - Alejandro, UPA Senior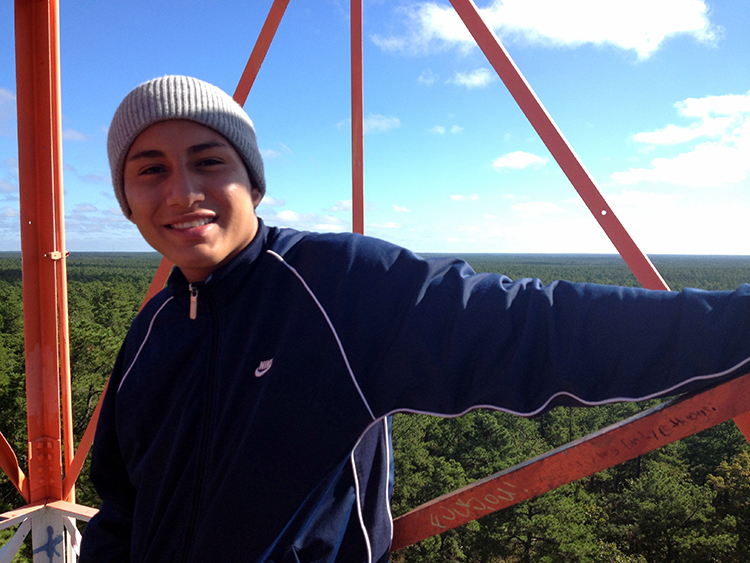 You could see it on his face- the truest expression of joy and wonder. We were visiting the Apple Pie fire tower to look out over the Pinelands of southeast Jersey, and Alejandro's face just lit up as he climbed higher and higher up the tower. Well, climbed doesn't really describe it justly- it was more of a bounding up the metal staircase. As we reached the top, we could see for miles in either direction. To the east was the outline of Atlantic City, and off to the west you could just make out the skyscrapers of Philadelphia- we literally had all of New Jersey in our viewscape. Alejandro asked for picture after picture on each level of the tower- the camera capturing glimpses of the amazement he had exuding from his face. 
Alejandro started at UrbanPromise Academy in the middle of his sophomore year. Prior to coming to Camden, he had lived in El Salvador, and didn't speak much English before starting at UPA. Now in his Senior year of High School, Alejandro is preparing for his Rites of Passage trip in May by participating in a series of outdoor leadership trainings designed to prepare him for his final UrbanTrekkers experience at the end of the school year. On this particular trip, Alejandro got to have his first ever experience of camping, eating over a camp stove, and paddling  down the Mullica river. 
After posting photos of our adventures online, Alejandro commented with, "The best experience in my life!!! Thanks for everything guys." I love being there when students experience something for the first time. My hope is that Alejandro's love and enthusiasm for life will continue on in our next steps of preparation for the Rites of Passage. My greater hope is that beyond high school, he enters life equipped with a continued sense of intrigue, wonder, and joy, just like the day on the fire tower. 
God Bless!
Kris Schnepf, UrbanTrekkers Program Director 
Geeking out with the Stream Steward Team
Each week, the UrbanPromise Academy Stream Stewards Team makes a trip down to the banks of the Cooper River to collect water samples. The team is trained to test the water for things like dissolved oxygen, nitrates, and temperature to monitor long-term trends and assess river health. 
This year, the team has welcomed three new freshmen students who have brought a whole new level of excitement to throwing the bucket!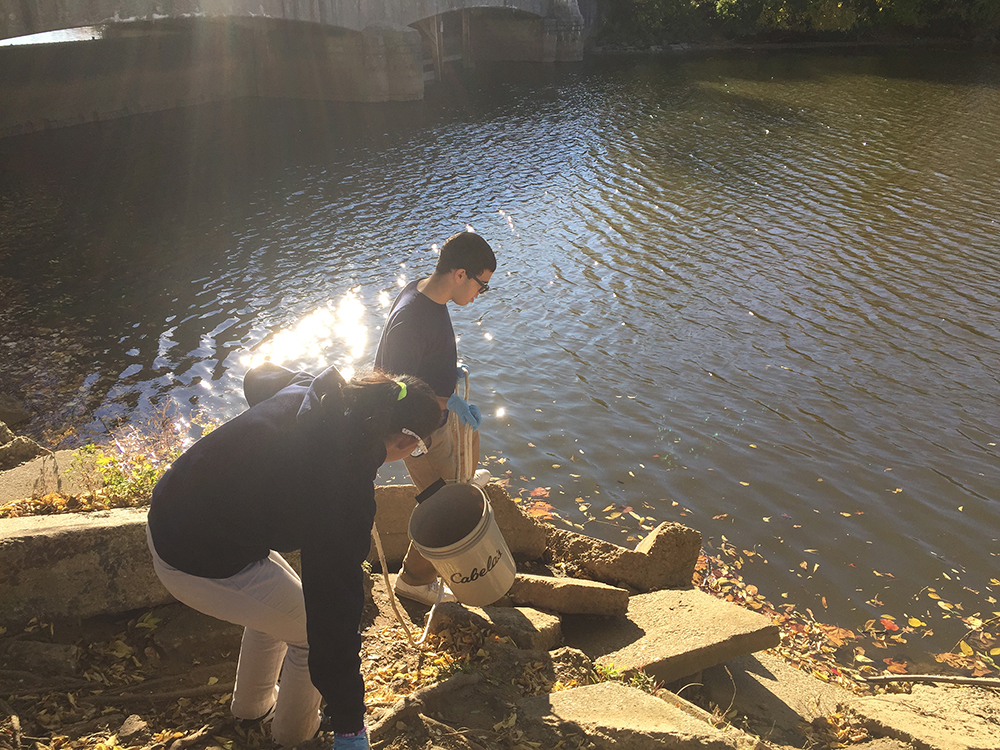 (Left) Yasiria and Kris getting ready to toss the bucket for water collection
And it doesn't end there, in addition to monitoring the water, the team also engages in a number of activities to deepen their understanding of the watershed and how water moves through the hydrologic cycle. They play teambuilding games, create models, hold a mini clean-up at the testing site, and use inquiry based science to conduct their field work.
(Right) Stream Stewards team creating a watershed model
When someone asks what the Stream Stewards do, I've always been quick to respond with "we geek out together for a few hours," but after this week I've learned that it's much more than just that. One student shared, "Stream Stewards has been the best part of my week".  We aren't just going out to learn something new about the water,  we are forming relationships and having fun while we do it!
-Vicki Carberry, Environmental Education Program Director 
Pages