Blog: 2013
The Art of the Road Trip: Chapter One
"I'm a 2." Hm. Normally when Mr. C does a mood check on a scale of 1-10 with our Trekkers, average answers are usually about an 8. The lowest we might get from a student is generally a 5 that comes in the morning when they're still half asleep. This night, however, many students were feeling extremely anxious about white water rafting the next day. They'd heard stories from former students about near death experiences and falling out of the boat, and were not too sure that rafting sounded like a good time. All we could do was give them as much information as possible about what rafting entails to try to reassure them, and send them to bed for a good night's sleep.
Getting ready to go the next morning, what surprised me was that in spite of the fear that students were feeling, not one of them expressed any intention or desire to back out. Students expressed their nerves in varying fashions, from total silence to nervous giggling  to complaints about the cold wetsuits.
Our biggest blessing for the day came in the form of Blue Heron Outfitters, a class act rafting company whose owners and guides engaged with our students to reassure them   and answer all of their questions. By the time they were done with the safety talk, students were already starting to feel better.
As we got to the river, of course, students' fears bubbled to the surface once again. We did little things to assuage their fears like showing them how far we could lean out of the boat when we wedged our feet into the raft. The guides were excellent, generating excitement and moving quickly to avoid giving students time to get scared.
After that, the water started moving, and the kids started paddling, laughing, and screaming. They were screaming and laughing the way you do on a roller coaster, when the thrill of the moment takes you in. I turned to look at Ashley, who was the most nervous of the group, and she was grinning ear to ear as she paddled head on into a big beautiful wave.
When we got off the river and onto the bus, Mr. C did another mood check. A chorus of excited shouts came back: "I'm at an 11!" "I'm a 20!" "I'm a 30!" Quickly thereafter, students fell quiet, elated and exhausted after a day of adventure in the water and sun.
For me, the huge upswing in the mood check exemplifies what UrbanTrekkers does. Take a fear you have and challenge it. Find reassurance in the people you trust. Let the beauty of God's creation bring you joy.
Keep on trekking,
Julia
"What gives value to travel is fear. It is a fact, at a certain moment, when we are far from our own country we are seized by a vague fear, and an instinctive desire to go back to the protection of old habits. This is the most obvious benefit of travel. At that moment we are feverish but also porous, so that the slightest touch makes us quiver to the depths of our being. We come across a cascade of light, and there is eternity. This is why we should not say that we travel for pleasure."  -  Albert Camus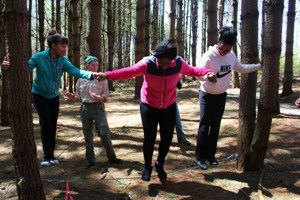 That may read a bit severe to some of us, but I think Monsieur Albert speaks of the  essence of trekking.  I recall several years ago when 
Trekkers were on their annual spring break expedition, a trip full of early morning wake ups to make the most of our six days in the Florida Everglades.   After several days of 6:00 AM starts one the students made it clear to me this wasn't his idea of a vacation; ha! I remember my quick unfiltered response: "Traveling with fifteen teenagers isn't my idea of a vacation either!" The point was made.
Over the years we have learned how to make the trek more about the experience than the place.  It begins in the planning, the budget, itinerary, menu, permission forms, waivers, medical forms, and lots of other details that are the obvious.  But a sixteen hundred mile,  six day trip on the trekker bus to Asheville, North Carolina for spring break with nineteen students and leaders requires a few tricks of the trade.  Timing is key. Noticing when  energy levels need a boost on long bus trips allows us to break out "DJ J-Dawg" (aka Julia VanderWoude, our Expedition Assistant) to play a pre- selected set of tunes dedicated to individual students. This never fails to re-energize a bus load of students towards the final  leg of a long journey.
Morning devotions help set the tone for the day. They're followed by our mood checks, on a scale of 1 -10, this helps us to be pro-active with knowing who's up and who's down.  Our covenant requires trekkers to travel unplugged, no cell phones, no electronics except cameras.  We want our students to be in the moment, to take in all that surrounds them...no talk of tomorrow when we are still in today.  Bathroom breaks on a 1-10 scale (I'm at a 5 equals 30 minutes... you would never wait to announce when you are at an 8 or 9, which would be trouble.) allow for plenty of time to find a bus-friendly place to park the oversized vehicle. 
Everyone wears a whistle with a known protocol on use, and a buddy system, point person, and sweep all help to insure safe travel as we journey on trails and city streets.  Trekkers carry filled water bottles to ensure hydration, this and healthy meals, and good night's sleep help to create a positive energy throughout the trip.  We also do our best to make sure everyone is good and tired by day's end so sleep comes quickly.
Reflecting back on a quote from one of my former students, Jose, I think he sums it up:
"...I use to think that Trekkers was only about amazing views and experiences. I never thought that Trekkers was about the lessons of life."  Our students have come to recognize the value of the way we travel on Trekker trips. Don't get me wrong, sometimes it's difficult to get them out of bed at 6:00 am. But when they see the intentionality in the art of the road trip, they begin to see the merit of conscious attention to their surroundings, their peers, and their own sense of being. 
Student shares love of river at New Jersey Land Conservation Rally
Faith Kroma, a sophomore at UrbanPromise Academy and active participant in UrbanTrekkers, told the story of her personal connection to the Cooper River at the New Jersey Land Conservation Rally this past weekend. Her story exemplifies the senses of belonging and ownership that many students feel as they paddle the urban rivers that run through their own neighborhoods in Camden. Stories like Faith's lead the way in advocating for access to nature for Camden's residents.  
Growing up, my favorite thing to do in the whole wide world was going to the zoo. I remember every first Sunday of 
the month, my father and I, along with my sister, would wake up reaaaaallly early, eat breakfast, pack a picnic and drive over the Ben Franklin Bridge to the Philadelphia Zoo. Oddly, my favorite part of those Sunday morning trips was not seeing those exotic, outlandish animals at the zoo.
My favorite part was passing this canal called the Schuylkill River. I can just remember having my two centimeters from the car window trying to catch a gaze at the beautiful boat houses with tiny Christmas lights outlining their structure. I remember cheering on the boat racers as they flew across the river like the speed of light and seeing people playing and jogging around the river.
And I couldn't forget me thinking that that place just over the bridge HAD to have been the best place on earth.  That river was my first real intimate relationship with a piece of nature.
The community I grew up in didn't have a place that came CLOSE to the beauty of that river. But when I came to Camden, and I enrolled at Urban Promise, I started taking these paddle trips on the Cooper River. The Cooper River is literally a block away from house. The first time I paddled on this river, I mentally rolled my eyes at the comparison to the Schuylkill River. There was just so much trash and debris and abandonment to the Cooper River, and it made me just want to give up on it. However, the more I paddled on the Cooper River, the more potential I saw in it.
Now, I don't see the Cooper River as just a body of moving water, I see it as a friend. And my friend Cooper here is having some really bad problems right now and needs a buddy like me to stick up for him. 
UrbanTrekkers: Coming to a City Near You
"I never knew wool socks would make such a difference for my comfort when I'm trekking in the snow! They changed my life."  This lesson, along with many others, were talked about last weekend as Jim and I came together with new UrbanTrekkers' leaders from UrbanPromise sites in Trenton, Wilmington, and Miami. No longer will UrbanTrekkers be exclusive to Camden. Now, with this new group of energetic leaders, UrbanTrekkers programs are starting to come to life for students elsewhere.
This summer, we will be taking students from Camden, Trenton, and Wilmington to Colorado and Utah for a fourteen day expedition through five national parks that will be the adventure of a lifetime. The beginning of preparation for that trip is training the staff in everything from proper gear for the students to the core values and practices that make UrbanTrekkers such a unique and transformative program in the lives of students. Values like integrity and compassion shape UrbanTrekkers and therefore shape the students that we have the privilege of serving.
At its deepest level, UrbanTrekkers holds to the goal of developing lasting relationships between teens and mentors.  All the adventure, the hiking, paddling, and camping, would mean nothing if not for the building of relationships that create space for character development and genuine engagement with our youth. As I hiked and talked with those that have volunteered to get UrbanTrekkers programs up and running in their own cities, I couldn't help but think about the prospect of those relationships forming on a trail in Trenton, or in a kayak on the water in Wilmington. That is the vision of the UrbanTrekkers expansion. As we continue our work here in Camden, new UrbanTrekkers programs will be challenging students' comfort zones and expanding their worldviews at other UrbanPromise sites around the world.
Keep on trekking,
Julia VanderWoude
Pages