September 25th 2018
How can I instill awe and love of the outdoors in others? This question has stuck with me since I was a kid growing up in a variety of environments: the desert in Phoenix, Arizona, the rolling hills and woodlands of San Antonio, Texas, and the Northeastern forest of Baltimore, Maryland. I grew up spending much of my time outdoors, and developed an appreciation for my surroundings early on. I also met and befriended many different types of people throughout my childhood, and became curious about cultures and ways of life different from my own.
As a young girl, I did not realize I could turn my love of both the outdoors and people into a career. It was not until college and graduate school that I had the opportunity to act on these passions. Since graduation, I have had the opportunity to coordinate a youth initiative at the Philadelphia Mayor's Office of Public Engagement as an AmeriCorps VISTA, have worked as an environmental educator through Let's Go Outdoors and Riverbend Environmental Education Center, and as an outdoor educator at the Philadelphia Outward Bound School. These experiences have allowed me to do what I love: stand alongside all kinds of people learning in and about the outdoors, and discovering more of themselves, and more of their communities.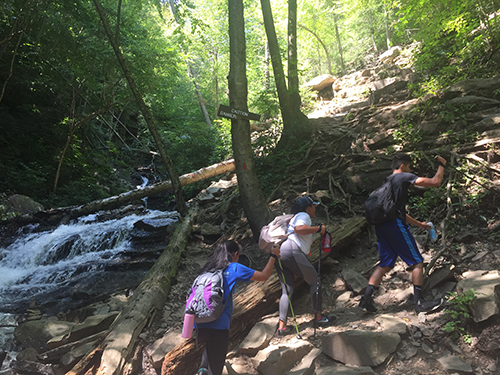 This is what draws me to environmental education. The environment, in many ways, provides a clean slate for people. In this age, many people spend their lives indoors, removed from the outdoor environments that support their lifestyles. I enjoy helping people take literal breaths of fresh air, as they uncover how the environment serves them, and how they can be stewards of these life giving places. I enjoy helping youth, in particular, build skills, become leaders, and build confidence while challenging themselves in unfamiliar situations.
When I first happened upon the UrbanTrekkers website, I immediately thought this organization gets it. UrbanPromise's Office of Experiential learning combines youth empowerment, challenge, environment, hands on projects, and compassion. I was struck by the holistic, but very intentional, view of youth development, and wanted to be a part of it. Since taking on the Environmental Education Program Director role in late August, I have seen an organization that is welcoming, compassionate, flexible, and is not afraid to push the envelope or fail. I enjoy working on a diverse, energetic, and mission minded team, and see the constant relationship building that happens with our students.
Yes, our team alternates days in the office with days outdoors, and yes, we aim to share the beauty of the outdoors with our students and Camden community members. But more than that, we aim to help our participants see the beauty in themselves, in others, and in our communities at large.
Rachel Abbott, Environmental Education Program Director