Our Blog
"Alright everyone," asked Tyann, one of our 12th graders, "who wants to continue down the trail, and who wants to turn around now?" We had hiked a couple hours that morning on pretty flat ground around Lake Nockamixon, situated in a small state park in eastern Pennsylvania. We had the option of continuing another couple miles down the trail or turning around to head back to our cabins. Tyann was our "leader of the day," a role each student took on for a portion of the trip, including responsibilities of monitoring wellbeing of the group, keeping the group on schedule and on task, and making informed decisions based on the best interest of the group. Tyann put the decision to a vote- and found that one third of the group wanted to return, while about two thirds wanted to continue on. She was part of the group that wanted to return to camp. I was curious to see what would happen.
The day prior, we spent time looking at four different leadership styles- directing, selling, consulting and engaging. Students and volunteers took a self-evaluation to see which leadership style aligned most with their personality. Directing leadership is mostly directive, Selling leadership looks to explain the reasoning behind a decision, Consulting takes others' opinions into account before making a final call, and Engaging leaves the choice completely in the hands of the group. We had spent the prior evening talking about the pros and cons of each leadership style, and when was appropriate to use each of them.
As Tyann consulted the group on our hiking route, she decided that because of the majority wanting to continue on, that we would keep going, but we were able to come up with a compromising plan which brought us to a beautiful lakeside lunch spot that fell in between our two options. Tyann put into action what she learned about herself the day before, laying aside her personal preferences to put the group first. She acted with confidence and thoughtfulness, making the experience the best one possible for everyone involved.
Psalm 139:13-14 says, "For You formed my inward parts; You wove me in my mother's womb. I will give thanks to You, for I am fearfully and wonderfully made; Wonderful are Your works, and my soul knows it very well.…" Leadership takes on many forms. Each of our students were created uniquely by our loving and personal God. Anytime they can live out that uniqueness and discover the way their leadership can be a gifting to the group is a chance to reflect on the way God designed them to be. My hope is that they continue to flourish as leaders- whichever trail they decide to take. 
Hate cannot drive out hate; only love can do that.
The morning we went to the Holocaust Memorial Museum, two of our students, who also happen to be sisters, were fighting a lot with one another. You know the kind of way siblings fight? It was the kind where they are impatient with one another, and every little thing done or said annoys the other one. Then they realize it annoys the other one, so they dig in to get a greater reaction and laugh about it.
We had just arrived at the Holocaust Museum, probably one of the most somber places in DC, possibly in the whole country. I had briefed students going in about how to carry themselves with respect inside. Well, our two sisters were still caught in their world of petty sibling arguments. I told one of them to chill out and back off. I was getting fed up with them at this point. This really just made her more upset- now both at me and at her sister. The rest of the museum visit, the two avoided each other, and the one I spoke harshly to avoided me.
After walking through the museum, which still strikes me to the heart every time (even after my fifth visit) we headed to lunch to decompress a bit. The two sisters sat kind of near me towards the end of the table, along with Yasiria, a sophomore student on our Student Leadership team. I could tell they were still bickering about something, but this time I overheard Yasiria interjecting. When I listened closer, I discovered she was giving them advice on how to work through whatever argument was going on. She spent the next 20 minutes or so actually counseling them through things! And they listened!
The rest of the day, I didn't hear a single dispute between the two. I was so impressed with Yasiria; she has a heart of gold and always leads the group by example, showing compassion and kindness along the way. Earlier on our expedition, we walked through the Martin Luther King Jr. monument. On the monument walls, there was a quote that said,
"Darkness cannot drive out darkness; only light can do that. Hate cannot drive out hate; only love can do that." -MLK
I was struck by the way Yasiria handled things in that instance. She did a much better job at showing love and patience than I did! We had just walked through a memorial showing the world what happens when we let darkness and hate take the reins, but in the end, it's purpose was to show how light prevailed, and how we have a choice everyday how to respond to our world. Yasiria that day chose light, and it drove out the darkness. She chose love, and it bridged a gap between two sisters. I call that a victory.
"Pleeeeease, please please…. I have to be able to bring my cell phone!" were the words being pleaded to me Tuesday afternoon. Anjelika was getting ready for her eleventh-grade class trip to New York City. She couldn't believe we were going to have our phone-free policy implemented on this trip. "It's New York City Kris…I have to be able to take pictures on my phone!!" I said that was a good point and let her know I'd give her first dibs on using one of the student cameras we have set aside for just that purpose. We spent the next thirty minutes or so going back in forth, Anjelika trying to convince me with through half-tears and a pouty face that it was an essential to bring her phone.
We have a philosophy built in to all our UrbanTrekkers trips that students leave their cell phones at home. We want to live in the moment and be engaged with the people immediately around us. It's so easy to miss those beautiful landscapes, or memory-building moments on the bus, or a deep conversation, or that cool view of the Statue of Liberty on the ferry ride if we are constantly looking down at our screens. By not having the distraction of cell phones, it opens the door for us to really engage in conversation with our students and build those strong relationships that can carry on back home.
The day of the trip, I was impressed- Anjelika didn't bring her phone. And she didn't mention it once throughout the entire day. We took the Staten Island Ferry into Manhattan, toured the 9/11 Memorial and museum, traversed the subway up to Times Square, entered St. Patrick's Cathedral, passed by the Rockafeller Center Christmas tree, and handed out scarves and hats to the homeless.
When I returned home that evening, I got a text from Anjelika asking me to send her the pictures I had taken on my phone. Here's the conversation we had after I passed them her way:
"I applaud your patience with not bringing your own phone" -Kris
"I forgot all about it once we got on the ferry. I had so much fun." -Anjelika
"I'm so glad to hear! That's the goal!  Make it fun so that you don't even need your phone to enjoy it" -Kris
"Yes, of course. I probably would have been on it during the ferry ride. And the subway ride." -Anjelika
"Haha, hmmm, I think I remember mentioning something like that! Glad you enjoyed the journey." -Kris
"So am I" -Anjelika
Looks like this time we accomplished our mission- to enjoy the journey, and the people who are alongside us. It was a beautiful reminder to me of the great responsibility and privilege I get to live alongside my students. Ultimately, it was the best example of experiential learning- for Anjelika to discover on her own the power of living in the moment.
Tell me and I forget.  Teach me and I remember.  Involve me and I learn.  -Benjamin Franklin
If you ask, Danny and Alex will readily tell you that they don't like to sit down in class and they don't like worksheets.  In Biology class, they are learning about unifying traits of all living things--from single cell bacteria to a great white shark—which could be viewed as a list, or it could literally come to life when seen playing out in living things.  Early in November, the class went to the Haskin Shellfish Research Laboratory where a lot of work is being done with the oyster population on the NJ shore.  Mrs. Van Osten, the UrbanPromise Academy science teacher was impressed with how engaged Danny and Alex were during the trip, noting a big difference from the classroom version of these young men.  They both shined while making slides of the oysters, using a blade to create hair-thin slices of the specimens, requiring a great deal of precision and focus.  Danny shared, "I like to work, I don't like to sit down."  He enjoyed making oyster bags (bags of oyster shell pieces, maintaining a sust
ainable habitat and giving oysters substance on which to attach themselves).  The students made it into a competition and made 100+ bags!  Upon returning from the adventure, Alex shared that he liked the experience because it was "hands on, it wasn't just working on some paper writing stuff down." 
While we can't bring the biology class to the research laboratory every day, we were able to connect meaning to the material learned in class.  Meaning translates to motivation and motivation to success.  Thank you for your support of experiential learning at UrbanPromise and the academic success of our students.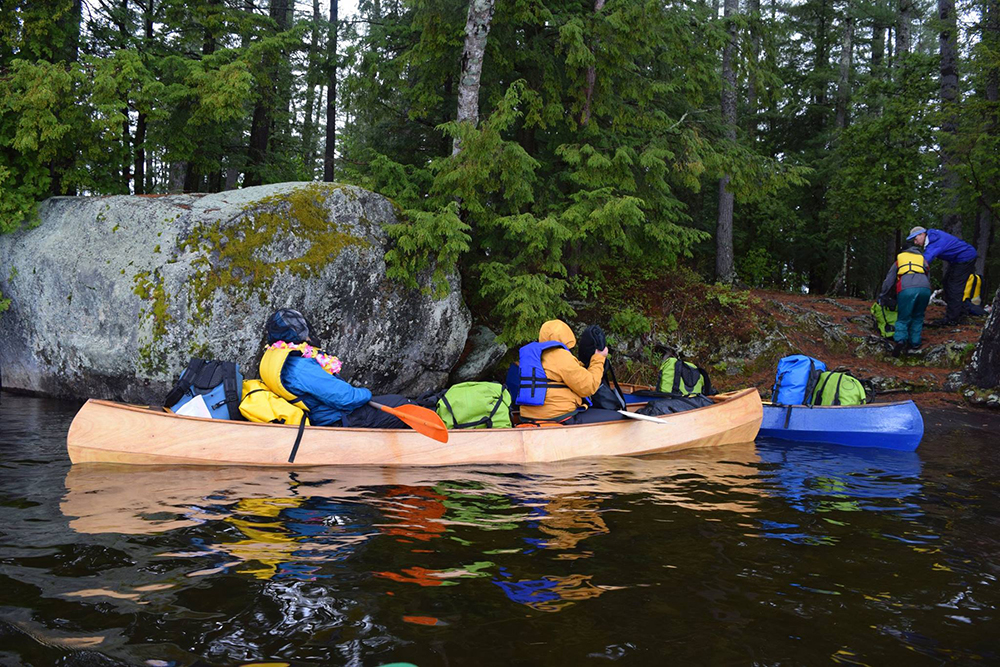 "I don't want to do this anymore!" Yelled Danieliz as we stopped paddling. I had thought we were closing in on the take-out for our three day canoe journey, but it turned out I had misidentified the building we had been aiming for along the coast of the Lower Saranac Lake. Danieliz was tired. As was I.
We'd been paddling about four hours that day- but that's not to mention all that had taken place the preceding days. Day one of our expedition we had six miles of swift paddling down Upper Saranac Lake. We were sore by day's end, but nothing compared to day two. Upon waking to our second day on the water, we paddled about a mile through the cold and rain to a portage spot, where we had to carry our canoes and all our gear about half a mile between Upper and Middle Saranac Lake. Half a mile may not sound very far, but when you consider our wooden canoes, personal gear, food, kitchen supplies, firewood, fuel and paddles (and remember- it was still raining), that half mile seemed much longer! That was the day Danieliz sprained her ankle on the trail. Day two of that trip will stand out in infamy for us all. Once we finally moved our gear to the end of the portage, the rain let up. We took a moment to just sit, eat some lunch and revel in our victory. Then it began raining again. We threw an impromptu dance-off in order to get the blood flowing to our hands and feet before hopping in our canoes for the last couple miles of paddling that day.
Our third and final day of paddling was the longest- about eight miles, and it was the eve before each student would be entering their 24 hour period of solitude. We paddled right past the islands that each student would soon be occupying. That was the day Danieliz said she couldn't go any further…but eventually, we kept moving, and to all of our delights, discovered that our take-out spot was just around the bend!
That day I dropped each student off on their own personal island for the next 24 hours. They set up their own campsites, cooked and took time to reflect on what they want to leave behind as they graduate, and what kind of life mission they want moving forward. When I picked up Danieliz the next afternoon, she was beaming. She, and really all of the students, were so proud of their self-accomplishment. They had survived their night alone (and it didn't rain!).
After picking students up from their island we headed to Keene Valley Hostel for our last night together and our final debrief time. It was there that each student shared what they had learned from their experience that week, but most especially, the things they reflected on during their stay on the island.
Each student chose an object from their island to throw into the fire as a representation of what they were leaving behind from their past life. As Danieliz' was enveloped in flames, she explained that she was leaving behind the words, "I can't." Now that she had paddled over 15 miles, survived the portage day with a sprained ankle, and spent 24 hours alone on an island, she knew she could do anything! I knew it too. To accomplish so much in such a short amount of time is a reminder to our students that they are more resilient than they think they are. Some of our students face trials on a daily basis that are just as extreme as our Rites of Passage, but I know that God reveals Himself in those times to be closer to us than we think. My prayer for those who are graduating this week is that during difficult times, Christ reveals Himself to be more real than ever before. Through Him, our students can cross any waters, climb any hill, and overcome any obstacle. 
Pages