Our Blog
Sharing the Love Over Valentine's Day Weekend
We shared the love of trekking! The UrbanTrekkers mixed it up this past weekend; instead of exploring a new place we seized the opportunity to hang with our sister program, Trekkers, from Maine. The Maine Trekkers were making their way down the Northeast coast on their Ride through History tour; we thought what better way than to share the history of our very own city, Camden. From the boom of the industrial era in the early nineteenth century to the continuation Camden's maritime history right in our very own boat shop, it was definitely a city tour for the books. My favorite was our pit stop at Phoenix Park, once the site of a factory now transformed into 5 acres of open space on the river with remarkable views of Philadelphia. Thanks to our guide Jeff and students who shared not only Camden's past but also glimpses into its promising future.
After our Camden tour, we did some early spring cleaning at the boat shop and ended the night with reflections from our day. It was encouraging to see dialogue and a coming together of young people from Maine and Camden. We definitely look forward to visiting the Maine Trekkers in their hometown during our annual From the Hood to the Woods trip this August!
Keep on Trekkin', 
Vicki
UrbanTrekkers Environmental Educator 
I'm sure many of you have been to the theatre at some point in your life. But have you had the opportunity to sit in on a rehearsal? Yeah, it sounded like a possible snoozer to me too, but seeing as Ms. Higgins and daughter/actress Christina were nice enough to put the trip together, I thought I'd at least do what I do best; drive them there and help eat the pizza! How surprised was I to see how much fun this trip was! The students got to meet the director for some Q & A before the actors began rehearsing, listen as the cast went back and forth on changes they felt needed to be made, watch the actors rehearse a scene from the play, then follow up with another conversation with the director. I think all of us were amazed at how much work goes into a play and how detailed they are in rehearsing and staging the play. Since these UrbanPromise Academy students read the script in the weeks leading up to the play, they were familiar with what was going to happen, but actually surprised that it played out different in person than what they expected in their heads. Now they have even more reason to look forward to the play, "Lobby Hero", which they will be seeing as soon as it opens. A big thank you and shout out to Christina for arranging this special night, and to the students for representing UrbanPromise so well at the restaurant and in the theatre! Thank you all!
-Dan Higgins, UrbanPromise Volunteer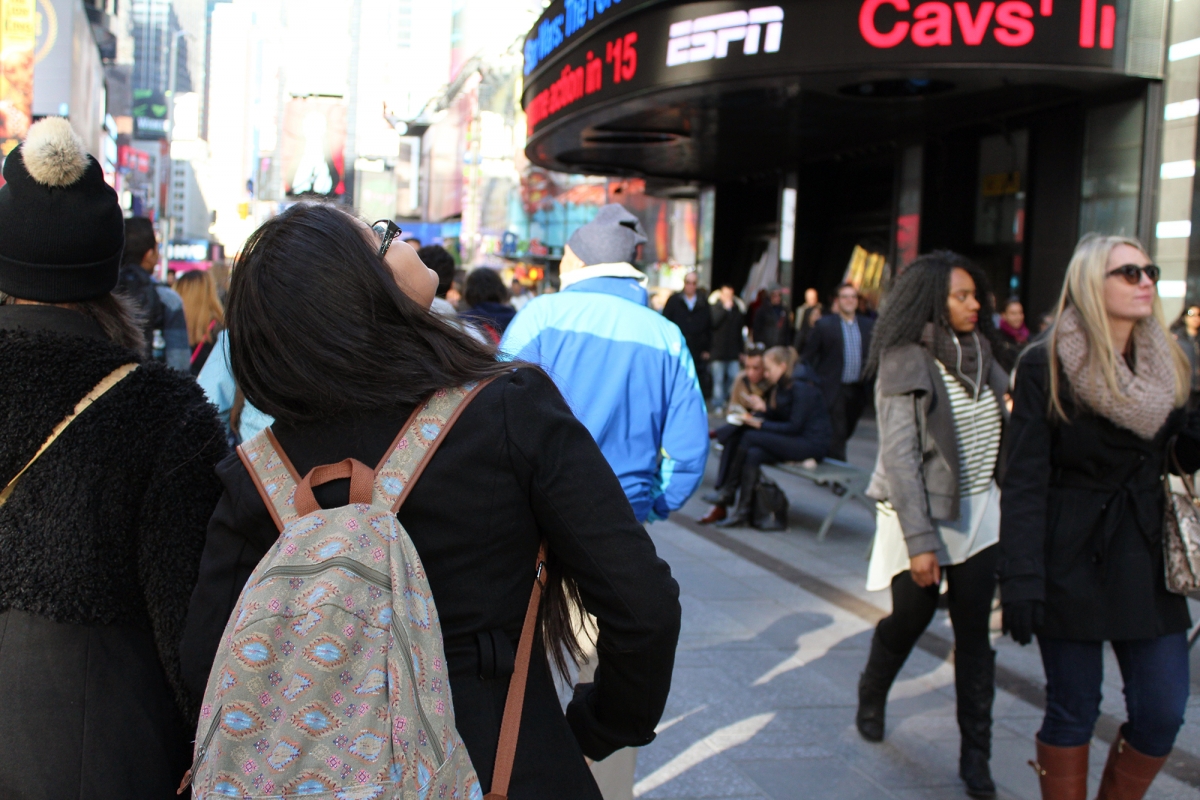 "When we got to New York I saw a lot of diversity and tall buildings.  I felt like an ant." – Yormelis
On December 16th, UrbanTrekkers went to NYC with the 11th grade from UrbanPromise Academy.  Most students had never been to NYC before, and none had been to the 9/11 Memorial museum. Just like a NYC block, our day was packed to the brim and had a whole smattering of emotions to accompany the diverse experiences. 
Trekking in a city is definitely a different experience from trekking in nature. It's a miracle more people don't bump into one another in Times Square given the fact that most people are looking up in wonder, taking in all the details. Even with all the stimuli, students were still in tune with their reactions and responses to the events of the day:
"The whole trip was fun.  We walked Times Square and the atmosphere and the people in it were electric." – DaJuan
"When I lived in El Salvador, I always wanted to go to [New York City] and the Statue of Liberty!  When I watched movies, I always thought that most of the places I saw probably didn't exist… [but] I saw where the Twin Towers were located, I learned things I never knew, and I went to many places!" –Alejandro
"The most that stood out was that in the 9/11 attacks there were kids that died. Some of them were born when I was born in 1999—they only had lived for 2 years.  The media always concentrated on the adults, but not really on the kids, which stood out [to me]." –Yormelis
"…our first stop was the 9/11 memorial museum. Going in there I kind of knew what to expect but I didn't think I would cry so hard. There was so much to learn and so much to see and explore. There was this room and on the walls were all the people who died in the twin towers. I walked away from the wall and walked towards these tables that were touch screen. On the tables were the victims who died and a short story about who they were and what they were doing on the plane or in the twin towers. I was scrolling and there was a little girl who was on the plane with her parents headed to Disneyland. The little girl never made it there and she was born in 1999, so she would have been my age. That touched my heart and I will never forget about that." –Mary Janne
Seeing NYC in the movies is different than seeing it in person, and being there in person connects you to the reality that places like this are within your grasp. Visiting the Memorial and hearing the victims' stories at the 9/11 museum brings the events of that historical day to life, giving dignity and humanity to an attack that affected so many in our area. Living these experiences is a valuable gift that we are blessed to give to our students.
What do Santa on a Harley, a horse and buggy, a guy in a kilt, a man playing sax in a 3 piece suit, and a guy eating pizza on a sidewalk have 
in common? These are all the sights we enjoyed during one of our bike club rides through Philly. The last one was actually Coach Dan, but these rides never run short on interesting sights and people! With the weather being sunny and 53 degrees, we couldn't pass up the opportunity to ride over the bridge, up the Schuylkill and down the iconic South Street with whoever was available to ride. In this case, it was just Brandon B, but that didn't stop us from logging in 25 miles before stopping for a super-size slice of pizza. I guess this could be a twist on Mother Teresa's saying; "if you can't feed 100 people, feed one."
Just a few weeks later, our Environmental Educator, Ms. Vicki, joined the crew for another ride through Philly.  The weather continued to favor riding, so the "Urban Pedalers" weaved (safely) through the streets of Center City Philadelphia and along Penns Landing.  These trips are not only great experiences for students to connect with urban green spaces, get exercise, and see the city, but they also serve as preliminary training for two big events coming up: the 11th annual Pedal for Promise and Trek Malawi, a 300-mile cycling journey through Malawi, Africa.  Our students are going places—literally.  Thank you for being a catalyst for the movement!
Sometimes I feel like I'm the keeper of a secret.  I know of a very special place, a place of peace and solitude, a place of natural beauty, a place of incredible contrast.  It's a river and it flows through a city that you would likely never hear defined with the words just written.  It's the tidal Cooper River that winds its way through the city of Camden.
My students and I paddle this river in the wooden canoes and kayaks we build in our boat shop.  The shop is located in a century-old church that is now the Camden Shipyard and Maritime Museum in the city's Waterfront South neighborhood.  We begin our paddle at the Kaighn Avenue dam and paddle through the city to the confluence of the Delaware River back channel behind Petty's island.  This urban river flows through the tidal marsh, a lush and vibrant environment that for most of us goes unnoticed. 
And while this is Camden, a place known for extreme poverty and violence; this is not what we see.  We see magnificent Great Blue Herons, Snowy White Egrets, Belted Kingfishers, Red Winged Black Birds, and so much more.  We paddle past skeleton remains of old brick buildings that once housed the industries of a manufacturing Mecca, known as Camden.  Our journey takes us under highways and bridges where thousands of motorists pass overhead each day completely unaware of the amazing adventure we are having on a river they never see.
Once, paddling under the beautiful old swing bridge of Federal Street, a student who rode the bus twice each day across this bridge, to and from school, shared that he felt like a tourist in his own city; only the river could give him that perspective.
The river has become our classroom.  Our students regularly test for water quality, seine, and analyze micro organisms for additional signs of the river's health.  We advocate before city and regional government for better access to the river, and for an environmental justice that's not being fairly shared between more affluent suburbs and the urban community.
Through our Trekker and BoatWorks programs we have been able to provide an alternate view for many teens throughout our city.  Whether pedaling or paddling, the effect--or ripple, if you will--can be the spark to bring transformation to the lives you help us impact by your faithful and continuing support.
Blessings, Jim Director of Experiential Learning
Pages