Our Blog
"The best experience of my life!" - Alejandro, UPA Senior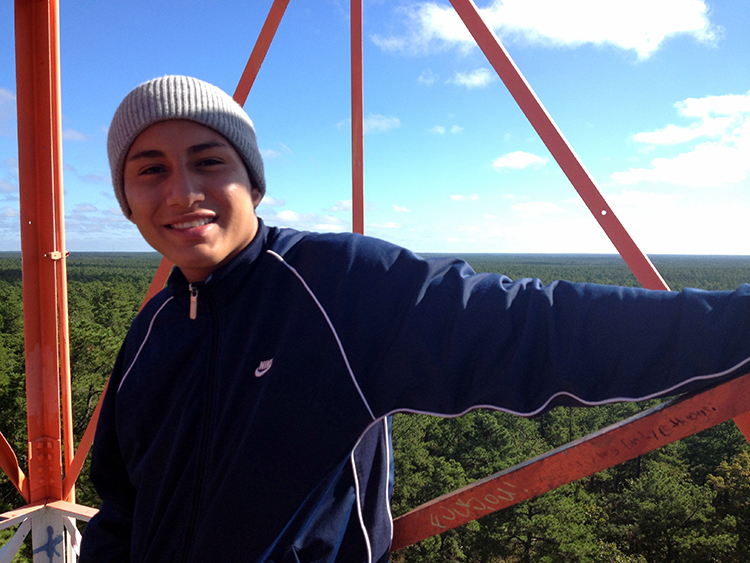 You could see it on his face- the truest expression of joy and wonder. We were visiting the Apple Pie fire tower to look out over the Pinelands of southeast Jersey, and Alejandro's face just lit up as he climbed higher and higher up the tower. Well, climbed doesn't really describe it justly- it was more of a bounding up the metal staircase. As we reached the top, we could see for miles in either direction. To the east was the outline of Atlantic City, and off to the west you could just make out the skyscrapers of Philadelphia- we literally had all of New Jersey in our viewscape. Alejandro asked for picture after picture on each level of the tower- the camera capturing glimpses of the amazement he had exuding from his face. 
Alejandro started at UrbanPromise Academy in the middle of his sophomore year. Prior to coming to Camden, he had lived in El Salvador, and didn't speak much English before starting at UPA. Now in his Senior year of High School, Alejandro is preparing for his Rites of Passage trip in May by participating in a series of outdoor leadership trainings designed to prepare him for his final UrbanTrekkers experience at the end of the school year. On this particular trip, Alejandro got to have his first ever experience of camping, eating over a camp stove, and paddling  down the Mullica river. 
After posting photos of our adventures online, Alejandro commented with, "The best experience in my life!!! Thanks for everything guys." I love being there when students experience something for the first time. My hope is that Alejandro's love and enthusiasm for life will continue on in our next steps of preparation for the Rites of Passage. My greater hope is that beyond high school, he enters life equipped with a continued sense of intrigue, wonder, and joy, just like the day on the fire tower. 
God Bless!
Kris Schnepf, UrbanTrekkers Program Director 
Geeking out with the Stream Steward Team
Each week, the UrbanPromise Academy Stream Stewards Team makes a trip down to the banks of the Cooper River to collect water samples. The team is trained to test the water for things like dissolved oxygen, nitrates, and temperature to monitor long-term trends and assess river health. 
This year, the team has welcomed three new freshmen students who have brought a whole new level of excitement to throwing the bucket!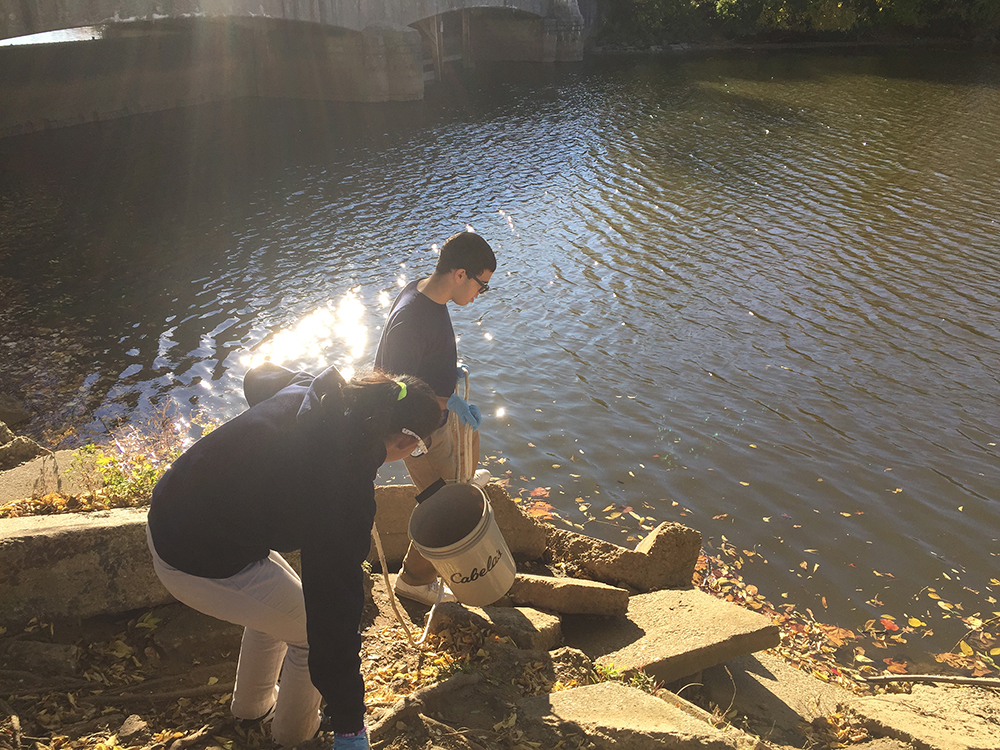 (Left) Yasiria and Kris getting ready to toss the bucket for water collection
And it doesn't end there, in addition to monitoring the water, the team also engages in a number of activities to deepen their understanding of the watershed and how water moves through the hydrologic cycle. They play teambuilding games, create models, hold a mini clean-up at the testing site, and use inquiry based science to conduct their field work.
(Right) Stream Stewards team creating a watershed model
When someone asks what the Stream Stewards do, I've always been quick to respond with "we geek out together for a few hours," but after this week I've learned that it's much more than just that. One student shared, "Stream Stewards has been the best part of my week".  We aren't just going out to learn something new about the water,  we are forming relationships and having fun while we do it!
-Vicki Carberry, Environmental Education Program Director 
As we packed up our tents on our last day at Assateague Island, the wind was whipping from the offshore tropical storm, blowing sand in every direction, and students were getting their gear together to head home. I asked Lemmy to run and grab some things from the van, and he quickly returned. This was Lemmy's first Trekkers trip, and I had found him to be extremely helpful all week long. Whether it was grabbing gear, helping others set up tents, or just lending a hand to others, he was always ready and willing to go the extra mile. I shared with him my observations and thanked him for all the help and his great attitude. He said to me, "Well that's because I love it here. I've never done anything like this, or been someplace like here before. I've never been to a beach like this or had a campfire like we did last night…" at that point I stopped what I was doing. I think I knew what it felt like when they said the Grinch's heart grew three sizes that day…
 "I don't want to leave," he said.
 Since coming back, Lemmy has offered to go as a student-leader on the 9th grade Assateague trip next week multiple times. For Lemmy, this was his first time at Assateague Island, but it represented many other firsts for him. More than anything, I think it provided Lemmy with one of the first experiences leading others as a servant-leader. His example, his attitude, and his actions spoke so loudly to me, and I believe he will (and already is) speaking loudly to his classmates as to the true nature of a Trekker.  
-Kris Schnepf, UrbanTrekkers Program Director
As the school year starts and the Trekker bicycling club gets going again, delays sometimes happen. Here, the group gets an unexpected delay due to a biker getting not one, but two flat tires at once. After the break, we pedaled to the pizzeria for some hard earned nutrition. Okay, that last part may be debatable, pizza is not the healthiest, but it is fun to eat! The Higgin's are looking forward to another great year of after school pedaling as we lose a few graduates, but gain some really great freshmen!  See you on the streets!
-Dan Higgins, UrbanPromise Cycling Team Volunteer Coach
This summer, for the very first time, Urban BoatWorks has hired 5 teens to lead the summer ecology history paddling program.  After receiving training in on-the-water safety, canoe rescue, the history and ecology of the Cooper River, and paddling, these students spend their days building boats in the Urban BoatWorks boat shop (housed at the Camden Shipyard and Maritime Museum) and leading community paddles on the tidal Cooper River.
Meet Nyseemah: 
Hi my name is Nyseemah Mahan.  I attend UrbanPromise Academy.  I am now a sophomore, but not too long ago I sat as a freshman. My first year at UrbanPromise Academy was full of adventures. We also had a class that involved building boats. The freshmen attended the project on Wednesday mornings. Once I got involved, I knew I liked it.  I enjoyed using the different tools and learning about the different types of woods. I then decided that I wanted to become more involved. When I heard about the RiverGuides program, I decided to go for the opportunity. I was a little nervous that I wouldn't get the job, but when I found out, I was ecstatic. The best part about being a RiverGuide is that you have the attention on you. When we're on paddles, you are a L-E-A-D-E-R . At first I wasn't very confident, but Tom and Vicki boosted my self esteem way up and made me believe that I was able to continue and do better. RiverGuides hold a lot of responsibilities. We have to make sure we have everything that is required for the paddle. We even learned the history and ecology of the Cooper River. I even interact with different types of people. And teach them what I learned about the Cooper River.
Pages