Our Blog
It's a sunny afternoon at Pyne Poynt right here in Camden, NJ. It's low tide so the Stream Stewards walk down the boat launch and make a left onto the dry riverbed. We see a nice flat rock to put our water testing supplies on and get to work. The sky is blue with few clouds and we see geese, ducks, and then a hawk flying by. We remark how the air smells like spring and that we feel energized as winter slips away.
Two Stream Stewards throw our bucket on a rope into the river to take a water sample, then take turns testing temperature, pH, turbidity, nitrates, phosphates, and dissolved oxygen. As we carefully test our water sample and record our results, we discuss school days, work days, tell jokes, and admire the beautiful weather and take in the start of a new season. We chat about things to look forward to during the remainder of the school year and beyond, and simply enjoy the moment.
Stream Stewards may be a space to learn about what is happening below the surface of our waterways, but it is also a space to consider ourselves in the context of our environment. It is a space to step away from our phones and laptops, school books, and busy schedules to really connect with the river in our backyard. It is a space to connect with each other when the chaos of the day has finally taken a break. We come to complete a task, but we gain much more. This particular spring afternoon, I think about the fact that this space is a sort of refuge that we can return to week after week.
On the short ride back to UrbanPromise's campus we enjoy each other's company, eat snacks, and talk about our plans for our next Stream Stewards' meeting. Until next week and until our next refuge!
Rachel Abbott, Environmental Education Program Director
Since I started working here in July, no trip has gone exactly as planned. This year's 12th Grade trip to New York City was no different. Wind, snow, and ice forced us to postpone the trip to the end of November. The seniors made up the entire itinerary for the trip and chose to walk the Brooklyn Bridge from Manhattan to Brooklyn as our premier event of the day. I found a museum in Brooklyn for us to visit and discovered a TedTalk that I wanted to share with the students and have them reflect upon throughout the day.
I played the talk in hopes of generating ideas among the students about how we can impact the community through simple acts of kindness and generosity. I also thought it would tie in very well with the museum, but the museum turned out to be a dud, and I was left wondering where our conversation would go and what we would talk about.
Turns out there was no reason to worry. Several students began sharing their experiences as StreetLeaders and the impact that they have made through the StreetLeader program. Then the conversation shifted as the seniors began to think back on their time together at UrbanPromise. The group admitted that they have not always gotten along. They acknowledged the growth and maturity of their classmates. They told each other how close they now feel and how they want to make the most out of the rest of their time together.
After leaving the museum we hopped on the subway and the group parted ways. Half of the group took the Metro to Times Square while the others split off early to see a young lady sing Christmas tunes outside of the New York Stock Exchange for their annual Christmas Tree lighting. Our friend Heavenly Joy, who we saw practicing earlier in the day, was not performing when we made it back to Wall St. Instead we got to see Jake Miller perform.
Although I have never heard of him, the 12th Grade girls are huge fans, so, despite the fact that we had to walk a mile to catch the ferry by 5:30 and were short on time, we stuck around and watched. Like a lot of other things on the trip, this was not in our plans; but as I looked up from my watch hoping that we would have time to make the ferry, I saw a row of Trekkers beside the stage smiling from ear-to-ear. I decided to wait it out. In one last unplanned moment, I felt the closeness of the 12th Grade class, and I thought it was much more important to let them share this moment together than it was to catch the Ferry.  Anyways, what's the worst that could happen?
Camden, New Jersey and Camden, Maine are two very different places in the world. One, very diverse, largely populated, and overlooked by even the people that live in it. The other not so diverse, a small town, and appreciated by mostly everyone in it. The one thing they do have in common: teenagers trying to better their community one relationship at a time. How do they do it? Trekkers play a big part.
I had the chance to visit Maine this year for the second time in my high school years. The first time, I took everything for granted. I just went on the trip to get away from home and school. I didn't think that I would enjoy it. It was harder for me to have fun on that trip because of the people that were on it. But when it came to the second trip, I had the most fun in nature I had ever had. It made me realize how fortunate I am.
Leaving from home at 6:00 AM for an unknown 15 hour drive wasn't as bad as I thought it would be. I spent time and bonded with people I see every day. I didn't know it was possible for that to happen in just 5 hours. This 'Hood to Woods trip changed my outlook on life, and myself.
Autumn C. 
Senior 2018
UrbanPromise Academy
IN THE NEWS: These kids are building boats in one of the most dangerous cities in the nation
CAMDEN, N.J. (CIRCA) —Yasiria Lugo spent her summer building handmade canoes, kayaks and paddles in one of the most dangerous cities in the nation. For her, the do-it-yourself projects weren't simply summer pastimes, they were a point of pride.
"You would never think kids in Camden are doing this," said Lugo, "Like 'what? A kid in Camden is building a boat?" Like, 'yeah, we are...they're really awesome, too.'"
This summer the high school junior worked as a river guide for Urban BoatWorks, a program that teaches kids about boat building and environmental stewardship in Camden, New Jersey. The port city ranked as one of the most dangerous cities in the country with nearly 1,600 violent crimes committed in 2016, according to Neighborhood Scout, an online database that tracks neighborhood analytics.
While accustomed to the violence and illicit activities of the city, Lugo said one of the most eye-opening parts of the job, was the fact that there was a river here at all.
"I didn't know about the Cooper River," said Lugo. "I didn't know we had a beautiful river literally right next to me. Did not know that at all, and it got me to see a different perspective on Camden."
Urban BoatWorks program director Tom Calisterio said challenging students' perspectives about their hometown is one of the goals of the program.
"It's funny because most of our kids have never been in a canoe or a kayak," said Calisterio. "So, at the end of the school year, when we bring out the canoes that we built, a lot of the kids are scared to go in the boat. But then after about 10 to 15 minutes, they're like 'oh man, this is great!'"
Urban BoatWorks is one of the integrated school programs under UrbanPromise, an umbrella organization aimed at nurturing Camden youth through education, ministry and community involvement. The organization offers a myriad of enrichment opportunities ranging from an alternative high school, to summer camps, to after school programs. Students enrolled in Urban BoatWorks take classes geared toward boat building in addition to participating in extracurricular activities like the RiverGuides program Lugo is part of.
Calisterio has been with the boat building program since 2009 as a volunteer and turned full-time last year. Prior to committing fully, he worked as a respiratory therapist at Pennsylvania Hospital for more than 20 years.
"It gives me more satisfaction to be doing this than working in the hospital," said Calisterio.
Over the past nine years he's helped the program construct nearly 50 boats, including canoes, kayaks, stand-up paddle boards and dragon boats.
In the boat building workshop Lugo and her friends looked puzzled holding their protractors and t-squares. Calisterio explained to them how they could use basic mathematics in conjunction with their new tools to make exact measurements on their custom paddles before cutting them on the bandsaw.
"We incorporate a little of the science, technology, English and math through the little things we make," said Calisterio.
Throughout the school year, students like Yasiria worked alongside mentors and educators to build their seafaring vessels. Come summertime, though, they set sail on local waterways such as the Cooper and Delaware rivers.
From the river, Lugo said Camden felt like a whole new place even though she's lived there her whole life.
 "I was kind of like in shock, like 'wow, I never knew this,'" said Lugo.
Lugo and her fellow river guides led a group of New Jersey residents on a tour of the Cooper River. The evidence of industry and urban fallout faded from view as Lugo and the other guides explained everything from river ecology to the history of Campbell Soup Company to their patrons. Bobbing up and down in her canoe, Lugo said there's more to Camden than meets the eye.
"There's going to be some parts that are not 100% good," said Lugo. "At the same time, you have the good inside of the bad—you have to just look a little bit closer to it."
According to Neighborhood Scout, though, the chances of being a victim of violent crime in 2016 remained high, compared to national averages (about 21 victims per 1,000 residents versus four per 1,000).
Despite the high rate of crime and violence, Lugo remained positive.
"Most people think it's a bad and violent city," said Lugo, "it's really not. I'm proud to be from Camden."
By Ryan Eskalis
September 11, 2018 12:48 PM EDT
Eskalis, Ryan. (2018, September 11). These kids are building boats in one of the most dangerous cities in the nation. Circa. Retrieved from https://www.circa.com/story/2018/09/11/nation/these-kids-are-building-boats-in-one-of-the-most-dangerous-cities-in-the-nation
Eskalis, Ryan.  (2018, September 11). These kids are building boats in one of the most dangerous cities in the nation.  [Video File].  https://www.circa.com/story/2018/09/11/nation/these-kids-are-building-boats-in-one-of-the-most-dangerous-cities-in-the-nation.
Staff Spotlight: Rachel Abbott, Environmental Education Program Director
How can I instill awe and love of the outdoors in others? This question has stuck with me since I was a kid growing up in a variety of environments: the desert in Phoenix, Arizona, the rolling hills and woodlands of San Antonio, Texas, and the Northeastern forest of Baltimore, Maryland. I grew up spending much of my time outdoors, and developed an appreciation for my surroundings early on. I also met and befriended many different types of people throughout my childhood, and became curious about cultures and ways of life different from my own.
As a young girl, I did not realize I could turn my love of both the outdoors and people into a career. It was not until college and graduate school that I had the opportunity to act on these passions. Since graduation, I have had the opportunity to coordinate a youth initiative at the Philadelphia Mayor's Office of Public Engagement as an AmeriCorps VISTA, have worked as an environmental educator through Let's Go Outdoors and Riverbend Environmental Education Center, and as an outdoor educator at the Philadelphia Outward Bound School. These experiences have allowed me to do what I love: stand alongside all kinds of people learning in and about the outdoors, and discovering more of themselves, and more of their communities.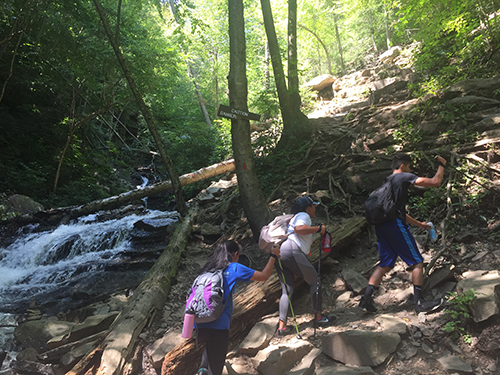 This is what draws me to environmental education. The environment, in many ways, provides a clean slate for people. In this age, many people spend their lives indoors, removed from the outdoor environments that support their lifestyles. I enjoy helping people take literal breaths of fresh air, as they uncover how the environment serves them, and how they can be stewards of these life giving places. I enjoy helping youth, in particular, build skills, become leaders, and build confidence while challenging themselves in unfamiliar situations.
When I first happened upon the UrbanTrekkers website, I immediately thought this organization gets it. UrbanPromise's Office of Experiential learning combines youth empowerment, challenge, environment, hands on projects, and compassion. I was struck by the holistic, but very intentional, view of youth development, and wanted to be a part of it. Since taking on the Environmental Education Program Director role in late August, I have seen an organization that is welcoming, compassionate, flexible, and is not afraid to push the envelope or fail. I enjoy working on a diverse, energetic, and mission minded team, and see the constant relationship building that happens with our students.
Yes, our team alternates days in the office with days outdoors, and yes, we aim to share the beauty of the outdoors with our students and Camden community members. But more than that, we aim to help our participants see the beauty in themselves, in others, and in our communities at large.
Rachel Abbott, Environmental Education Program Director
Pages