Our Blog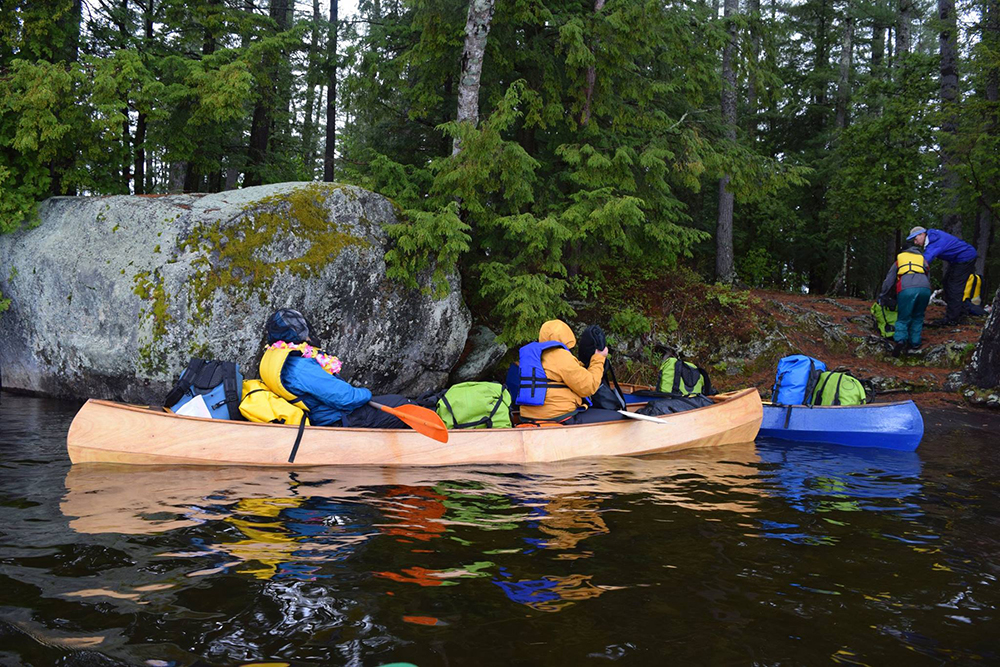 "I don't want to do this anymore!" Yelled Danieliz as we stopped paddling. I had thought we were closing in on the take-out for our three day canoe journey, but it turned out I had misidentified the building we had been aiming for along the coast of the Lower Saranac Lake. Danieliz was tired. As was I.
We'd been paddling about four hours that day- but that's not to mention all that had taken place the preceding days. Day one of our expedition we had six miles of swift paddling down Upper Saranac Lake. We were sore by day's end, but nothing compared to day two. Upon waking to our second day on the water, we paddled about a mile through the cold and rain to a portage spot, where we had to carry our canoes and all our gear about half a mile between Upper and Middle Saranac Lake. Half a mile may not sound very far, but when you consider our wooden canoes, personal gear, food, kitchen supplies, firewood, fuel and paddles (and remember- it was still raining), that half mile seemed much longer! That was the day Danieliz sprained her ankle on the trail. Day two of that trip will stand out in infamy for us all. Once we finally moved our gear to the end of the portage, the rain let up. We took a moment to just sit, eat some lunch and revel in our victory. Then it began raining again. We threw an impromptu dance-off in order to get the blood flowing to our hands and feet before hopping in our canoes for the last couple miles of paddling that day.
Our third and final day of paddling was the longest- about eight miles, and it was the eve before each student would be entering their 24 hour period of solitude. We paddled right past the islands that each student would soon be occupying. That was the day Danieliz said she couldn't go any further…but eventually, we kept moving, and to all of our delights, discovered that our take-out spot was just around the bend!
That day I dropped each student off on their own personal island for the next 24 hours. They set up their own campsites, cooked and took time to reflect on what they want to leave behind as they graduate, and what kind of life mission they want moving forward. When I picked up Danieliz the next afternoon, she was beaming. She, and really all of the students, were so proud of their self-accomplishment. They had survived their night alone (and it didn't rain!).
After picking students up from their island we headed to Keene Valley Hostel for our last night together and our final debrief time. It was there that each student shared what they had learned from their experience that week, but most especially, the things they reflected on during their stay on the island.
Each student chose an object from their island to throw into the fire as a representation of what they were leaving behind from their past life. As Danieliz' was enveloped in flames, she explained that she was leaving behind the words, "I can't." Now that she had paddled over 15 miles, survived the portage day with a sprained ankle, and spent 24 hours alone on an island, she knew she could do anything! I knew it too. To accomplish so much in such a short amount of time is a reminder to our students that they are more resilient than they think they are. Some of our students face trials on a daily basis that are just as extreme as our Rites of Passage, but I know that God reveals Himself in those times to be closer to us than we think. My prayer for those who are graduating this week is that during difficult times, Christ reveals Himself to be more real than ever before. Through Him, our students can cross any waters, climb any hill, and overcome any obstacle. 
"It's all right man…we all face difficult times. I remember when I first started paddling, I couldn't get it. I still don't get it all the time now. You know, it's kind of like life- we'll face our good days and our tough days. But we're here to support you through it…"
These were the words of Christian, a freshman at UrbanPromise Academy, to one of his upper classman peers while on our Spring Break Outdoor Leadership Training trip. A freshman! His gentle humility, compassion, and wisdom astounded me in the moment.  Did I mention he's a freshman? You see, we had just gotten off of a time of canoeing on Lake Nockamixon, and there was one canoe without an experienced paddler. We had pre-taught all the strokes for steering, stopping, and going, but they struggled. I could tell one of the students in the inexperienced boat was getting frustrated at their inability to control the boat. We tried every approach at coaching them through the strokes- steering was definitely not their strong point- not that day anyway. Eventually I saw a shift from frustration to anger- I was worried their canoe buddy would end up getting the brunt of a blow up, along with those trying to throw out advice (i.e. me!). They never went off though- they exercised extreme self-control, even if they weren't able to exercise much canoe-control in the moment!
Destiny was on shore listening in on our paddle commands over the radio, and when we were close to shore, she asked if she could come down and help us get the boats in. I saw her from a distance - she started waving her hands signaling us to our take-out spot, and over the radio started singing the sweet melody of, "lean on me…when you're not strong…I'll be your friend…I'll help you caaaaaary ooooooon…." I also had reached the point of frustration in those last several minutes, but it all faded away when I heard Destiny welcome us in with outstretched arms and her heartfelt melody.
After pulling our canoes up, our frustrated student headed back to the cabins and called Christian over. I joined them, and that's when I got to listen in on Christian's wise advice for his friend. My heart was touched- doubly so with Destiny's act of compassion. Once everyone had calmed down and changed into some warm clothes, we met up for dinner. Erin, our ever-amazing volunteer had jumped in for cooking duty that night when she saw us all struggling with the boats back to shore. She and Destiny cooked us up a delicious warm meal to close out our week. Everyone gathered around the table for our final big meal together- conversations had lightened once again, laughter could be heard from every side of the table, and everyone was extremely grateful to get to finally eat! The student who earlier had been so frustrated led us in a blessing for the meal, and in that blessing, thanked God for the family seated around the table.   
Like many of the students in our community, the frustrated canoeist has had a difficult family history in his 18 short years.  I've heard the word "family" used to reference the UrbanTrekkers and UrbanPromise community on multiple occasions, and it holds special meaning to all of us. That difficult afternoon turned into a beautiful moment of serving and supporting one another. It turned into an afternoon of being a family.  
The biggest moments are not always clear to us as they happen.
This past week, I was privileged to volunteer on a five-day trip with Urban Trekkers to Lake Nockamixon.  Students, who could be spending their Spring Break on their phones or in front of screens in Camden, instead leave the technology, comfort, and noise of their homes behind to bask in the glow of a new adventure. Every day of the trip was spent in some combination of cycling the surrounding trails along the Delaware River Canal, hiking, canoeing on Lake Nockamixon, getting to go on a few historical and environmental science tours, and singing loudly in a fifteen-passenger van. We would spend most evenings cooking and eating together, reviewing the events of the day in front of a student-forged fire, and cultivating a better understanding of what it means to be a leader.  
The prevalent theme of the week could be summed up in an activity the students were asked to take part in on the first day. At the beginning of the trip, each student created a "life map" which served as a representation of their goals and obstacles. At the end of the trip and after a college visit we managed to sneak in on the last day, each student was asked to look at their "life map" again, and make edits based on their experiences. As it is with most changes in our lives, the biggest moments are not always clear to us as they happen. Over the course of five days however, I saw students become aware of the power of their words and soften to the needs of others, cultivate an understanding of courage in the face of very real obstacles, and decisively commit to educational and vocational goals in life that they were formerly afraid to approach.  
One student had come on the trip to learn to be a better communicator, and had discovered that his innate capacity to listen would allow him to grow as a leader. For one student, this had been the longest time that he had been away from his family or a phone. He would discover that anyone in a group can change the tide; we are all leaders in that we all rely on each other. Another student arrived on the trip sure of her ability to communicate, but unsure of how to pray. She would learn that prayer can be as simple as a moment of gratitude, and a voiced hope for things to come.
A freshman on the trip, new to riding a bike, new to canoeing, and new to Urban Promise Academy spent the third day attempting a short mountain biking trail under the watchful eye of Urban Trekker's Director Kris Schnepf and with seasoned biking guidance from Dan and Joann Higgins. This trail challenged all of the students on a day when the morning bible verse for reflection had been, "Have I not commanded you? Be strong and courageous. Do not be afraid; do not be discouraged, for the Lord your God will be with you wherever you go," (Joshua 1:9). At the end of a bumpy ordeal with a few falls for everyone, he stepped off his bike, with the whole group around him, hoisted it over his head and in a rare, exhilarating moment of triumph exclaimed, "I did it! I did it!" Turning to Environmental Education Program Director, Vicki Carberry, he continued, "I just kept thinking - 'be strong and courageous!' I even told Kris when he fell too!"
Why would I freely give of my time and resources to be in the woods for a week with a bunch of teenagers who I've never met? Because there is so much to learn from the struggles and triumphs of these students that I need to remember in my own life, and they will be sure to remind me of it! Because the gift of ourselves, the gift of listening to someone, is sometimes the most effective way to communicate. Because, as Walter Brueggeman said, "We go into the wilderness having nothing, and lacking nothing." Because we are all leaders - we all rely on each other. Because bike by bike, s'more by s'more, someone has made it possible for Urban Trekkers to do work that is laying a foundation for years to come. 
-Erin Farmer, UrbanTrekkers Volunteer
Camden Teens Rediscover the Cooper River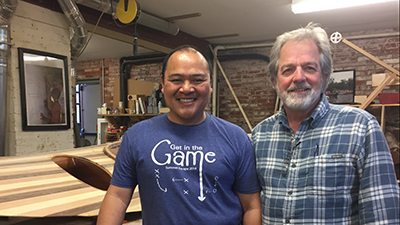 Congratulations and WELCOME to Tom Calisterio our new Program Director at Urban BoatWorks.  Although, it seems a bit odd to welcome Tom who has been with us since day one.  Tommy was one of the founding volunteers from the summer of 2009 who helped us begin the program that brought 5 young men and 5 not so young men together to build three wooden skiffs, Promise, Grace and Faith in a broken, run-down basement of an old church in the Waterfront South neighborhood of Camden.
Today Tommy leads a program that serves over 120 young people and 15 volunteers building character and life skills through the craft of wooden boatbuilding. The run-down, old church building is now the home of the Camden Shipyard & Maritime Museum and the boat shop for Urban BoatWorks.  It is more than a joy to now have Tom "on board" as our Program Director.  When we reflect on the names of the first three boats that were built, Promise, Grace  & Faith they are all virtues I associate with our new Director.  Welcome Tom!
Pages