Our Blog
The trip had been in the planning for over a year; it was the Senior Rite of Passage. We left Camden early in the morning for the seven hour drive to the Adirondack Mountains of New York. The five guys had just finished their final exams that week and would be graduating from the UrbanPromise Academy one week from today. Braheem, Kyrus, Mark, Mike and Terron have been part of the UrbanTrekkers program since they were freshman. During their high school years we have traveled to some incredible places… but this trip was going to be something very special, perhaps the last time we would all travel together.
My friend Dr. Bob Harris was joining us. Bob knew the guys well and had been a big part of planning for the trip. The Adirondacks region is known for its natural lakes and spectacular mountain scenery. Our itinerary would begin with the hike into Marcy Dam to set up a base camp the night before the twelve mile round trip to the summit of New York's highest peak, Mount Marcy. The climb up Marcy was grueling; it was hot and we were in the height of black fly season. Since the black flies were feasting on any exposed skin we put on head nets for partial relief. Arriving at the summit gave us all a sense of accomplishment. From our panoramic 360 degree view we scanned the vastness of mountains and lakes below. Standing there I was filled with excitement for what we had just done and there was a sense of mystery for what would unfold.
On the third day, the challenging hike of Mount Marcy was behind us and we were ready to reveal the next challenge. Bob, an expert climber, had hired a professional guide to give us a course in rock climbing 101. After hiking an extremely steep route we arrived at the base of the rock wall. The guys were in awe as they stared up at seventy vertical feet of shear rock before them. Again the black flies were having a feeding frenzy on any exposed skin; the head nets and Deet helped but we were still fresh meat. With the proper equipment and the expert guide the guys soon felt confident as they scaled the rock before them. Climbing is physical but probably even more cerebral… we were pushing them and they were amazing!
The twenty-four hour camp solo is what they'd been planning and anxiously waiting for since last fall… the final piece of the passage. Bob had invited an old friend to join us in our camp. Kirby was a seasoned back country camper and I was looking forward to hearing his stories. It was day four. We had rented a small outboard boat to transport each guy to their own small wilderness island in Lower Saranac Lake. The guys were ready… they each had a tent, sleeping bag, camp stove, small bag of food with water, a journal/pen… oh, and a whistle… just in case. In preparing for the Rite of Passage and the Solo our conversations were reaching deep within each of the guys.
They all grew up in Camden without fathers or even grandfathers in their lives and we wanted to talk about becoming men, husbands and fathers. We wanted to contrast our culture to our Christian faith and to define how that might look for each of them. They had to write a mission statement, something personal for themselves and also write a letter. The letter would be written by their future fifty year-old self and give advice to guide them on their life's journey.
I knew a rite of passage ceremony would need its own symbolic sacrifice ritual. The night before the solo we asked each one the guys to share with the group something personal they wanted to leave behind as they passed from adolescence to young adult. It was a poignant experience, they shared parts of themselves they usually kept hidden. Fear of failure, blaming self for a parent's abandonment, an inability to trust anyone, a lack of faith; holding grudges… the guys were brutally honest. The conversation was very personal, the stories compelling. Each one then drew a name of a fellow classmate and was asked to find an object on their island that could represent what their classmate had chose to leave behind and present it to him on our final night after coming off the island.
The Solo began with perfect conditions. It was noon on Tuesday, 85 dry degrees, blue sky with full pillow like cumulus clouds - couldn't get much nicer. The first three guys loaded their gear onto the boat and Bob brought them out to the islands. I stayed back with the remaining two waiting for the boat to return for the second run. The guys were quiet and apprehensive. They had talked excitedly in the days preceding the solo but now the full impact was upon them. Lower Saranac Lake can be wonderfully serene and natural; protected from land development there are only wilderness camp sites on its many small islands and shore line. The islands are beautiful, rocky outcrops rising quickly from the waterline with pines, cedars, birches and maples. On the water you'll spot fish jumping while Loons and Mergansers pedal about.
It was still early afternoon by the time we had all the guys placed on their islands. Bob, Kirby and I began to set up our own camp on the distant shore. We were camped a quarter to a half mile from the islands. I'd checked the forecast earlier that morning and knew there was a chance of afternoon thunderstorms. I thought a small passing storm could add to their experience and welcomed the possibility. It was getting late in the afternoon, approaching evening and Kirby was beginning to cook diner for Bob and I over an open fire pit. We all noticed the thunderheads starting to roll in from the west and the sound of distant thunder with the occasional flash of lightning. Witnessing a storm close-up and personal has always given me a rush of excitement; this time was no exception, although I did have the guys on my mind.
Quickly the sky blackened, the wind intensified, the thunder was Earth shaking and the rain became sheets of water washing over us. I moved quickly to secure loose items into my tent when suddenly "Crack" and "Crack," two forty foot pines came crashing down between tents and tarp. The lake took on an eerie presence as the whitecaps disappeared and a giant swell of water seemed to be moving up and down in the lake bed. Oh Baby! I thought this is more storm then I had hoped for. How would my guys be holding up, would they be safe? Would they be frightened? It was getting late and I knew we had to get out on the water.
The worst of the storm moved through quickly. The rains continued but without the wind the lake no longer looked angry as before. Bob and I got on our raingear and gathered a supply of essentials for first aid and tent repair. The top of one of the fallen pines had landed in our boat and needed to be moved aside before we could go out. I felt like we were running out of time as we motored across the lake. Braheem was first; we could see his tent from the shore and it appeared to be intact. I called up to him asking if he was okay. A voice came back from inside the tent all was well, he had weathered the storm. But he said he had heard Mike on the other island blowing his whistle. We were off to check on Mike. Mike heard the motor approach his island and was running frantically along the shore line. We could see from the boat that his tent had partially collapsed. Again, making sure he was physically ok we assessed his situation as one that required duct tape and small branches to shore up the snapped tent pole. We asked Mike to come close to the shore so we could toss him the tape and proceed to check on the other guys. As we pulled away from the rocky coast we heard Mike say, "That's it - you are leaving me here with duct tape?"
We soon approached the islands with Mark and Kyrus. Mark was in great condition, his island and camp site were well protected from the brunt of the storm. Kyrus had not fared so well. He, like Mike came frantically running towards the shore telling us his tent had collapsed with the poles snapping in multiple pieces. He was inside the tent when the wind exploded his poles and blew Kyrus and the tent a few feet from where it had been set. Kyrus crawled out and rescued himself and his gear seeking refuge in the outhouse. We made sure he was physically fine and assured him we would be back but had to go and check on Terron who had also been blowing his whistle.
Terron heard us coming as we approached the shore line. The wind blew the rain fly off the tent allowing rain to enter and soak the floor. He too was ready to end his island adventure. "Mr. C I was scared, I've been singing camp songs waiting for you guys to come." Terron is one resilient guy who knows how to survive. Staying on the island wasn't his first choice but we helped Terron relocate the tent and secure the rain fly. We found his driest clothes and told him to snug up in the sleeping bag and we'd see him in the morning. As we left to get back on the boat Terron told us not to worry about him, he said he would be fine; he had been taking care of himself for a long time.
We got back to Kyrus with duct tape, branches and rope; we resurrected his tent and like Terron wished him a good night and a promise to see him in the morning. That night as Bob and I crossed the lake returning to our camp I felt an overwhelming sense of being in God's presence and protection for I knew this night would be long remembered by all of us. It was getting late and darkness was beginning to surround us. A steady rain was falling. I looked at Bob who had one hand on the outboard rudder and water running off his slicker, grinning from ear to ear he said "God how I love this!"
We spent our final night at the Keene Valley Hostel… sharing the letters, mission statements and the symbolic letting go ceremony.
The significance of the storm was lost on no one. We got home on Thursday and the guys graduated on Saturday. In the tradition of UrbanPromise Academy, each one gave a speech sharing sometimes funny and sometimes serious memories of their last four years. In the fall, four of the five will be starting college and one will enter the Marine Corps. As I sat in the sanctuary that day and listened to each of them declare their plans for college and careers I kept thinking of the storm while I scratched away feverously at all my black fly bites... I looked over at my friend Bob thinking to myself, "God how I love this!"
It was dusk, we were heading East on the Kancamagus Highway. The Hairpin Turn was behind us now and we were descending from the higher elevations. We were somewhere between the Bear Notch Road and Falls Pond when it happened… we couldn't have planned it any better. A Moose! Urban Trekkers went wild. It was day two into our Mount Washington expedition and we had been on the road for about 5 hours, traveling north from Plymouth, MA. The area where we sighted the moose had high probability for a sighting, the habitat was just right. The north side of the two lane wilderness highway was low wetland, ponds, while the south side was a gradual climb into the Boreal Forrest. Yep! We were in Moose Country. I had kidded the students about calling ahead to the Park Ranger and placing an order for a moose sighting at the location and time of our passing. Some of the students kidded about it being mechanical.
After many months and much planning the Mount Washington Expedition was a reality. We traveled during the students' Spring Break, spending five nights and six days in New England. We balanced the trip with a mix of history, science and outdoor adventure. The reward of time spent in community with each other, traveling, and eating meals is not easy to measure - but you sense its awesome value.
We began our journey with a visit to the Mashantucket Pequot Museum and Research Center in Mashantucket, CT. We became part of the history by role playing the parts of the warring parties and reenacting the history of the 1637 Pequot and English conflict. Next we traveled to Plymouth, MA visiting the historic sites of Plymouth and the Plimoth Plantation. We were getting a very balanced look at early American history. Our final day provided us a visit of Old Sturbridge Village, a re-creation of an 1830 New England village.
Our trip was made affordable by the churches that opened their doors to us. We were hosted our first night by the wonderful people of the First Baptist Church of Plymouth, MA. Our friends, Jeff & Judy Jones, along w/ members from FBC, prepared a dinner feast, breakfast, and tours of Plymouth. On the return side of our trip, The Federated Church of Sturbridge and Fiskdale graciously provided space for us to sleep.
The highlight of the expedition and the key to its' success was our partnership with the Appalachian Mountain Club (AMC). The Youth Opportunity Program of the AMC provided us with equipment, clothing, and hiking boots for all Urban Trekkers - along with two highly qualified teachers for our Mountain Classroom program. The program consisted of outdoor hiking through some challenging terrain with the incredible vistas of the White Mountains. The students were taught basic skills in the use of a compass. We also had instruction on the skins and bones of the animals found in this mountain region.
It was our final night of the trip; we had covered a lot of territory physically and mentally. We were spread out on the carpeted floor at The Federated Church in Sturbridge, MA. I was looking forward to hearing from the students and to start reflecting on what we had experienced together. After some prodding the conversation started. Several students shared that the mountains had exceeded their expectations. They had surprised themselves in how much they were able to accomplish physically. All were grateful we had beautiful weather during our trek. One Trekker said it was the first time they ever climbed a mountain, they were happy to have the chance to prove they could, and it was probably the last mountain they would ever climb! For some the experience was being together and sharing with one another. Till next time…
We started walking north on Fourteenth Street towards the Mall after three intense hours at the Holocaust Museum. Realizing it was still early in the mental processing of what we experienced, I began asking my Urban Trekkers what their initial impression was of what they had seen. "I hated those Nazis, I wanted to kill them!" one of the freshmen told me. Another girl, a sophomore, said "That's just the way it was Mr. C, there wasn't anything the people could do." My own feelings covered a lot of ground between those two extremes shared by the two students. Most importantly our students were feeling a range of emotions and the history of WWII and the Holocaust had come alive for them.
Nineteen Urban Trekkers visited Washington D.C. during the Christmas break. We were fourteen students and five adult volunteers who drove down from Camden and stayed four days and three nights at the International Youth Hostel located at Eleventh & K Streets. Being downtown afforded us the opportunity to visit most of our destinations on foot. We sure did some hiking, with so much to see and the excitement of being away from home the miles didn't seem to be noticed.
Our destinations included many of the memorials; it was pretty cool to stand on the terrace at the Lincoln Memorial, the very spot where Martin Luther King gave his "I Have a Dream" address. While visiting the wall of the Viet Nam Veterans Memorial I asked the students to find the name of a soldier I had known from my high school days. In the age of digital photography it wasn't long before two students came running over to me with the image of Andrew P. Corbin displayed in the frame of their digital camera.
Unfortunately we were not able to get passes for a White House tour, though we did take a walk around the building and got to see the White House Christmas Tree. My own impressions of our Nations capitol these days is one of a "bunker state" barricades, dividing walls, Capitol police standing on the steps of the Capitol with loaded rifles and dark wrap around sunglasses. One of the students recited a quote for me, she said it was from one of the founding fathers, "when you give up freedom for security you gain neither", an issue worth discussion for all of us.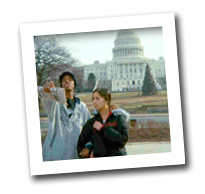 We also visited the House of Representatives in The Capitol Building, Folger Shakespeare Library, Ford's Theater, and the rooming house across the street where Lincoln succumbed to his gunshot wound. After leaving the Capitol we walked down First Street past the Supreme Court building (where we saw our first organized protest - for the pro-life cause) to Union Station. A trip to the National Zoo, in search of the baby panda only revealed his dad. The National Cathedral was an interesting stop along our trek. Among the over one hundred gargoyles and hundreds of grotesques carved into stone on the outside of the cathedral walls there exists a carving of Darth Vader, who would have known!
There were many places we had hoped to visit but time ran out ... although I would be amiss if I didn't mention the awesome experience we had by staying at the International Youth Hostel. As I mentioned earlier the downtown location served us well. We were able to walk to many of our locations and the time spent trekking afforded us close-ups of DC's magnificent statues and architecture. The hostel with its eight and ten bunk rooms and common bathroom facilities provided affordable lodging for our group. We were also able to bring our own food, store it in the refrigerator and prepare our meals. The large dining area provided a place to start our day with devotion and a time to lay out the plans for the day. The large private bunk room gave us a place to gather, mentally unpack our day's activities and relax together during the evening. We divided ourselves into three crews, kitchen, planning and activity, we were an efficient group.
Our DC expedition is now a memory, but a significant benchmark in the travel logs of Urban Trekkers. We have a retreat coming up in February and much planning to do for our Mount Washington, New Hampshire Expedition in April.
I slept well - my new 2.5 inch thick "deluxe model" camp rollup bed just purchased from REI was the charm, at age 50 plus the pad keeps getting thicker. It was the break of dawn on Saturday morning, June 4, and we were waking up on the beach at Assateague Island, Maryland. We are the Urban Promise Academy Outdoor Club, associated with a small high school at the UrbanPromise Ministries, in Camden, New Jersey. Our encampment was just up from the surf where we had set up two large tents and a tarp to cover our cooking and eating areas. There were ten of us who camped, six male students and four adult men volunteers. Rae Ann, my wife, had spent the night in a motel, just off the Island with the three girls who would be joining us shortly for a camp-prepared breakfast over a hot skillet. It would soon be time to pack up the tents and prepare for a day of paddling canoes and kayaks on the bay side of the Island.
Assateague Island has been one of my favorite places. A place I couldn't wait to share with the high school youth of the Academy. Paddling along side wild ponies and trying to identify the myriad of water fowl that inhabit the salt marshes of the coastal bay would be an experience the youth wouldn't forget. One student, floating along in a kayak said "if only I had a place like this in Camden where I could escape." I knew exactly how she was feeling! Working with high school youth, combining a love of nature with outdoor adventure has been a passion for both Rae Ann and I. We had spent many years leading a church youth group and teaching Sunday school in our home town of Pitman, New Jersey. Beginning with our own two children it has always been clear to us that youth want and need strong, healthy relationships with caring adults.
In the fall of 2004 the Urban Promise Outdoor Club began as an extracurricular activity for high school youth. Our original purpose was "to share our love, passion, and curiosity for the outdoors through regularly scheduled field trips that would take us up close to God's magnificent creation through nature and humanity. We seek to see God's hand in all creation and to find our place and purpose within."
In October of 2004 we took our first day trip to Cape May, New Jersey. We devoted the day to environmental stewardship, working with the New Jersey Audubon on a beach clean-up project. With binoculars in hand we hiked the nature trails and looked for migratory raptors from the hawk watch platform. Other trips included visiting the New Jersey Pine Barrens, canoeing the Wading River and visiting the historic Whitesbog village, where Elizabeth White first cultivated the blueberry. We spent time at an Alpaca farm in New Lisbon learning the toils and rewards of an agrarian way of life. We journeyed to Valley Forge National Park and experienced a reenactment of Washington's winter encampment of 1777. The Assateague Island National Seashore trip provided us with our first overnight camping experience. We saw this experiential learning as the beginning of more involved multi-day expeditions - designed with the students, and intended to generate a high level of interest. It is our intent that they be motivated to learn from these experiences and to carry that motivation into their studies. We offer youths opportunities to develop skills in teamwork, decision- making, and identifying appropriate life choices.
After a successful and rewarding first year of growing our relationship and building trust with the youth, it became apparent to us that we were on the right track and had stayed true to our original purpose. The leadership of Urban Promise also recognized this and connected us with a youth development and mentoring program located in Maine called Trekkers. We spent time this summer in Maine visiting with the youth and leaders of Trekkers. We came away believing this could be the model for the program we were pursuing at the Academy, stretching beyond the limits of the Outdoor Club. As we started to see more clearly the vision for our group we sought to find a new name that would capture the imagination and at the same time connect us to the people and places that have encouraged us to pursue this dream. It was too easy! We would be Urban Trekkers, and work with the Urban Promise Academy.
To make Urban Trekkers a reality, we are looking for financial and material support for the program. We are committed to the idea that the experiences we have during our teen years help to set the direction and paths that we will follow the rest of our lives. Our vision is to provide quality, experiential opportunities for the youth of the Academy and we believe Urban Trekkers can help to accomplish that goal. Youth need and want healthy relationships with positive adult role models and friends, people who trust in them and offer on-going support. We believe we can change lives and the world, one student at a time.
Pages